By Dean Rogers
China's stock market plunge wreaked havoc on stock and commodity prices around the world last week. Fears of a further slowing economy in the world's largest energy consumer along with weak manufacturing demand and the deepening global supply glut have recast a negative outlook on oil prices. The negative sentiment has been reflected in the technicals too as prices continue to fall.
February WTI fell to $30.88 on Monday and came close to meeting a crucial confluence point at $30.6. This is near the 0.618 projection of the wave $38.39 – 32.1 – 34.34, and is the last support protecting against a decline into the $20s. A close below $30.6 would call for at least $29.0 and likely $28.1. The latter is the 1.00 projection for the wave down from $38.39.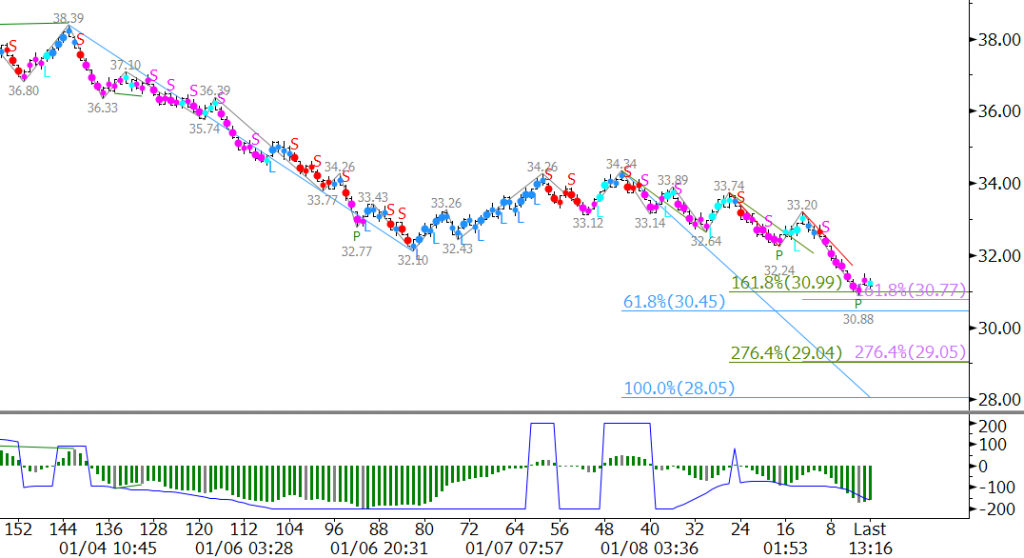 The KasePO PeakOut (green P) indicates Monday's $32.2 midpoint might be tested early Tuesday, but we expect this level to hold. Other than the intraday PeakOut there is little to no technical evidence that the decline is going to stall. Therefore, without some type of unexpected shift in the underlying fundamentals and/or technicals we expect to see prices fall into the $20s soon.
This is a brief analysis and outlook for the next day or so. Our weekly Crude Oil Commentary is a much more detailed and thorough energy price forecast. If you are interested in learning more, please sign up for a complimentary four-week trial.