WTI Crude Oil Technical Analysis and Short-Term Forecast
The longer-term outlook for WTI crude oil remains bearish after taking out the $67.4 smaller than (0.618) target of the primary wave down from $76.07 on Monday. This wave now favors an eventual test of the $63.2 equal to (1.00) target. However, today's rally was large enough to shift near-term odds in favor of a larger test of resistance first. There is also a double bottom around $65.0. Even so, given current technical factors, the move up will likely prove to be corrective but is poised to challenge $69.9 during the next day or so. Closing above $69.9 should be a challenge but would call for a test of crucial resistance at $70.8. This is in line with the 62 percent retracement of the decline from $74.23 and the smaller than target of the wave up from $65.01. Settling above $70.8 would significantly dampen odds for a deeper test of support and call for WTI to rise toward the $74.23 confirmation point of the double bottom.
With that said, each time WTI is begun to look as though a recovery is underway in recent weeks the move up has failed. Moreover, should WTI take out $67.5 early tomorrow look for a test of $66.7 and possibly $65.6. Settling below $65.6 will shift near-term odds back in favor of a decline toward $63.2 in the coming days.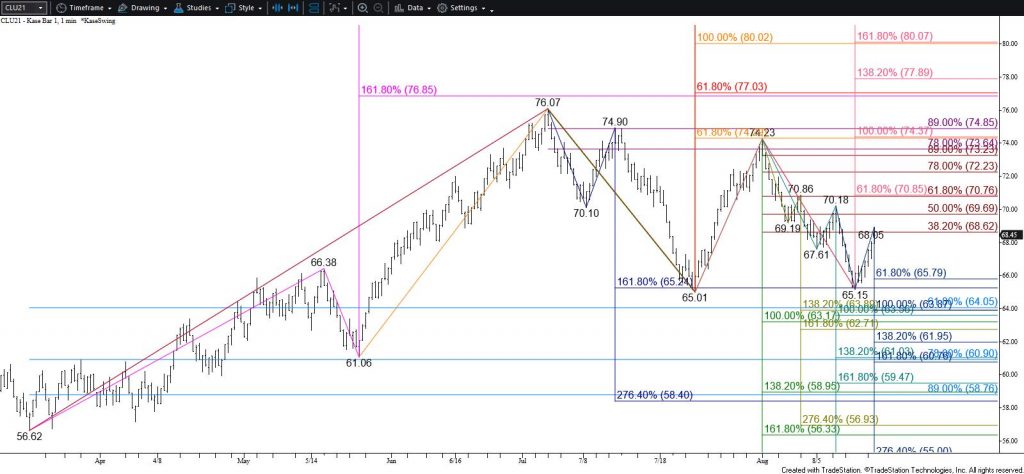 This is a brief analysis for the next day or so. Our weekly Crude Oil Forecast and daily updates are much more detailed and thorough energy price forecasts that cover WTI, Brent, RBOB Gasoline, Diesel, and spreads. If you are interested in learning more, please sign up for a complimentary four-week trial.