By Dean Rogers
WTI stalled near $48.0 as we expected in our weekly Crude Oil Commentary and the sustained close below $44.7 calls for a test of key support at $43.2. This is a confluence area that is near the 0.618 projection of the wave $51.42 – 42.58 – 48.36. A close below $43.2 would confirm the negative outlook and open the way for a continued decline.
The Kase Easy Entry System (KEES) confirms the negative bias. Today's pink dot indicates that the majority of momentum indicators are permissioned short on the daily chart and that the synthetic three-day filter is also permissioned short.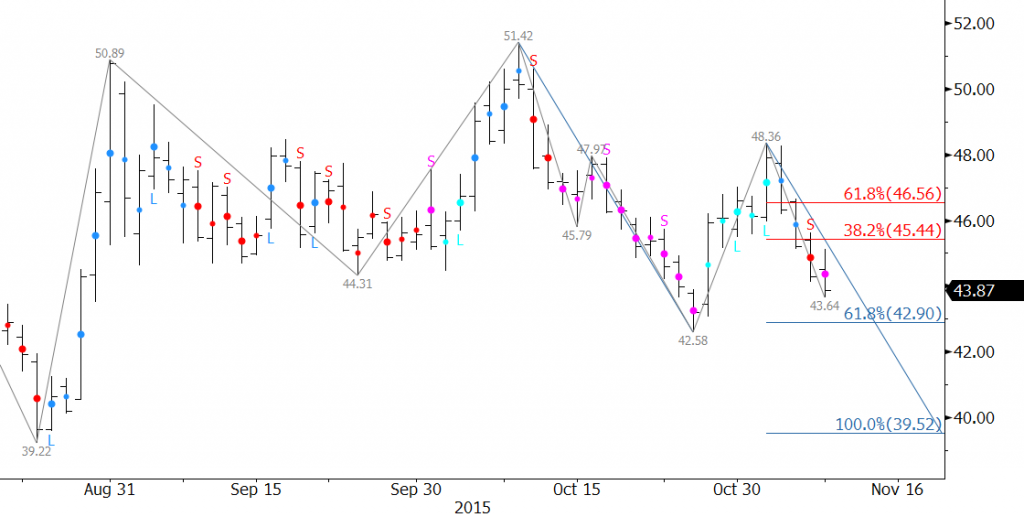 That said, the shorter intraday bar lengths are showing that the decline from $48.36 is a bit overextended, exhausted, and due for a correction. The correction will most likely take place once $43.2 is met. First resistance is $44.5. Key resistance is $45.4, the 38 percent retracement from $48.36 to $43.64. Both levels are in line with the opening prices of the last few days. A close over $45.4 would call for an extended upward correction and a likely trading range for the near-term.
This is a brief analysis and crude oil forecast for the next day or so. Our weekly Crude Oil Commentary is a much more detailed and thorough energy price forecast. If you are interested, please sign up for a complimentary four week trial.