Since early February, RBOB gasoline futures have been trending higher, forming a five-wave pattern. We follow a few simple rules when breaking down a five-wave move. Generally, each of the impulse waves (I, III, V) have to be proportional to one another, each of the impulse waves should break down into five-sub-waves, and most importantly, at least two of the impulse waves should be equal.
The May gasoline contract is nearing a very important decision point at 159.5. This is the 0.618 projection of Wave III. Stalling at 159.5 would fulfill our requirements for a five-wave trend because Waves I and V would be equal. In addition, Wave III would be 1.618 the size of Waves I and V.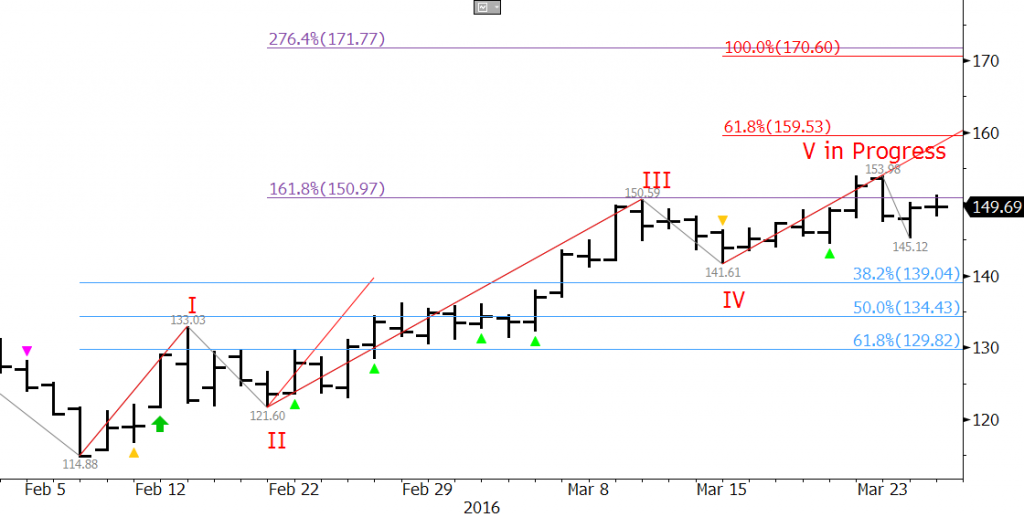 Should May gasoline futures close over 159.5, look for 171.0. This is the 2.764 projection for Wave I and the 1.00 projection for Wave III. In this case Waves III and V would be equal.
For the move up to extend to 159.5 in the near-term the 141.61 swing low of Wave IV should hold. This is also near the 38 percent retracement of the move up from 114.88. A close below this would call for 134.4 and likely 129.8.
Right now it appears as though the move up should continue to at least 159.5. Currently, gasoline's rise is likely supporting crude oil prices too. Therefore, if the move up fails, and gasoline prices fall, they may also lead crude oil prices lower.
This is a brief analysis and outlook for the next day or so. Our weekly Crude Oil Commentary is a much more detailed and thorough energy price forecast. If you are interested in learning more, please sign up for a complimentary four-week trial.