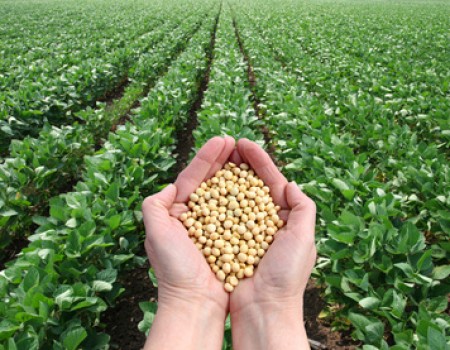 By Cynthia A. Kase
Six big firms dominate the agricultural supply business today, having bought up over 200 smaller companies and their intellectual property over the past 25 years or so. Monsanto, the world's largest seed supplier, and BASF both reportedly tried to buy rival Syngenta. Though no deals went through, it looks like the industry is in for another round of consolidation. One of Monsanto's problems is that weeds are becoming resistant to its star product, Roundup, and commodity prices are down, reducing farmers' ability to pay for its goods. A merger would help by giving it economies of scale which could improve its both prices and its pace of innovation.
The Monsanto stock price itself is now about 30 percent off its post-recession $128.79 high. Is Monsanto stock in the weeds or will it round UP?
Analysis
I'm biased to the downside primarily for these bearish reasons. The last four days, following last Wednesday's big up day, have been stars, or small open-close range days. There was a possible breakaway gap down this morning. Kase's daily upper stop has held. Momentum is non-divergent. The two most recent signals on KaseX, purple diamonds, were sell signals. All these are shown in the chart below.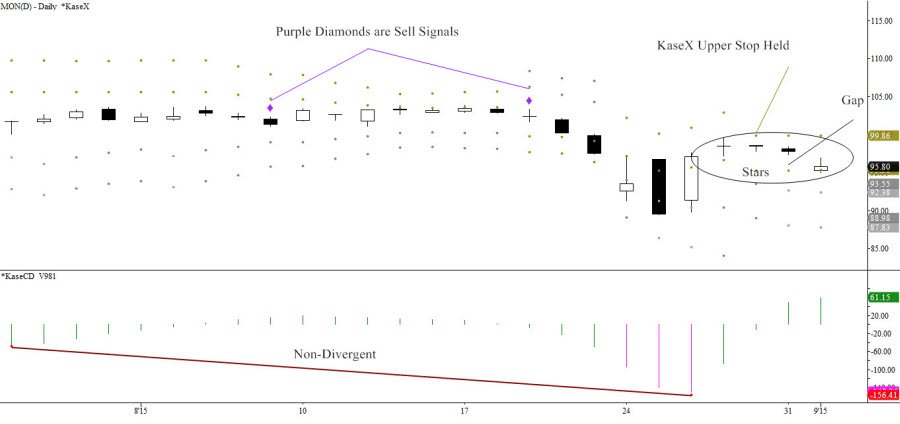 Charts created using TradeStation. ©TradeStation Technologies, Inc. 2001-2015. All rights reserved. No investment or trading advice, recommendation or opinions are being given or intended.
If the $10 recovery lengthens, it's no big deal if $98 is tested. The price to watch is $101. There'd have to be a three sigma move of the daily double TrueRange for $101 to be hit. This is also the minimum, 0.62 extension for the bounce from $89.34 to $99.48, and the midpoint of the candlestick for the week ending August 7. Above this, there's heavy resistance in the $105 to $107 area, but odds then swing in favor of a recovery right back to May's highs of $123 plus.
The decline to $89.34 was about $0.75 shy of $88.6 support, which must be clearly broken for a continuation lower. $88.6 is the 1.62 extension for the major recent wave is 128.79 – 105.76 – 126.0, and the 1.38 extension for the first wave down from $123.82. The trend terminus for both these waves is $71.25. Importantly, the correction from $89.34 to $99.48 targets $88.6 as the Phi-cubed projection. $88.6 is Kase daily DevStop2 and weekly DevStop1, so it is confluent statistically.
It's not unusual for trending patterns elongate in such a way as to stretch key targets to more extreme levels. This is what's happened for Monsanto. After falling from $128.79 to $105.76 in 2014, prices recovered to $126 earlier this year. Waves down from $126 have pushed the major downside target to$86.7. This is the "trend terminus" for the wave from $126.0 to $111.16, and the 1.0 extension from $126.0 to $103.14. Very importantly, $86.7 is the 50 percent retracement of the entire move up from the recession low of $44.61.
Outlook
Structurally, there's a reasonable chance for $86.7 holding support, otherwise, I'd look for a free fall to $71.25. Below that don't get lost after landing in the weeds!
Send questions for next week to askkase@kaseco.com, and click the link learn more about KaseX and the Kase DevStops.