After the 4th of July weekend the energy markets, unlike the weather across most of the U.S., heated up. The lack of warm summer weather in key areas of the county has given way to lower prices for natural gas. August natural gas futures finally closed below $2.73 on Tuesday and Wednesday. The move has been quiet relative to the noise being made by crude oil, but the break lower indicates prices should continue to decline. That said, the bullish KaseCD divergence and KasePO PeakOut (oversold signal) on the $0.035 Kase Bar chart indicate the decline will be a grind.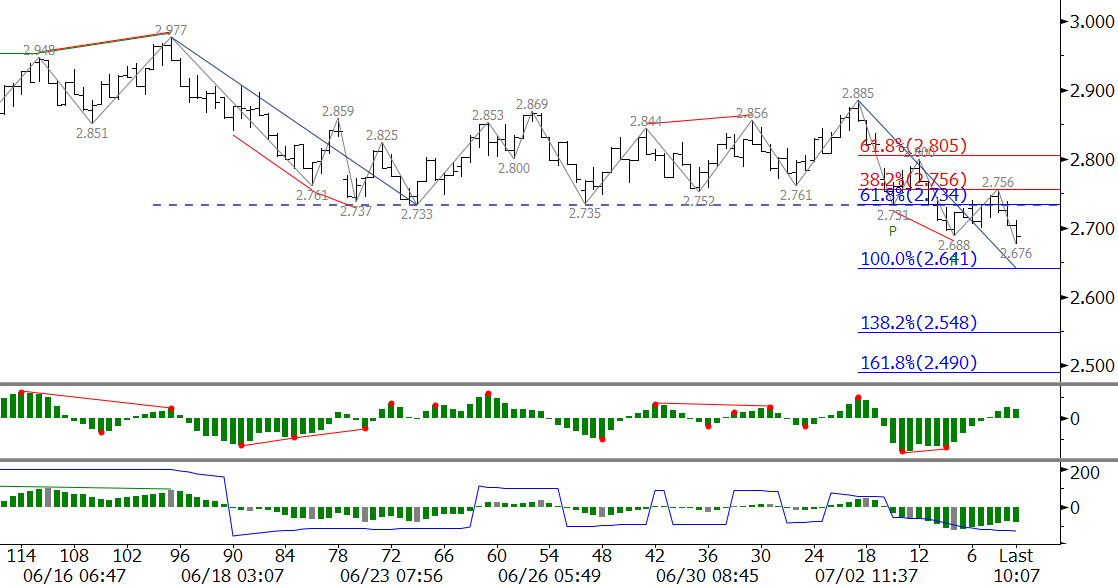 The wave $2.977 – 2.733 – 2.885 took out its 0.618 projection at $2.73, therefore odds favor at least $2.64, its 1.00 projection. This is a highly confluent and important target that protects the $2.588 swing low. We expect to see a bounce from $2.64 given its importance. A close below $2.64 would call for $2.55 and $2.50.
The 38 percent retracement from $2.885 to $2.676 is $2.76. Key near-term resistance is $2.81, the 62 percent retracement. Both levels are in line with the two previous intraday swing highs of $2.756 and $2.80. A close over $2.81 is unlikely unless tomorrow's Energy Information Agency (EIA) report is extremely bullish.
This is a brief natural gas forecast ahead of tomorrow's EIA report. Our weekly Natural Gas Commentary is a much more detailed and thorough analysis. If you are interested in learning more, please sign up for a complimentary four week trial.