Natural gas prices are still oscillating in the corrective range between approximately $2.60 and $3.00. Early in the week it looked as though natural gas prices were ready to continue the decline. However, while there is little doubt that the long-term bias is negative, Wednesday's price rise has called into questions how soon natural gas prices will fall to new contract lows.
Monday's gap from $2.783 was filled early Wednesday and then April futures overcame the 0.618 projection at $2.80 for the wave up from $2.641. The $2.80 level was also near the 62 percent retracement of the decline from $2.87 to $2.662. The confluence of the wave projection and retracement at $2.80 makes it a crucial decision point for the near term outlook. Should natural gas prices close over $2.80, look for at least $2.89 because it is the 1.00 projection. This level is most important because it is also the 62 percent retracement from $3.045 to $2.641, the 0.618 projection for the wave up from $2.589 (not shown), and is in line with last weeks $2.87 swing high. A close over $2.89 would open the way for an extended correction and would further delay a decline to new contract lows.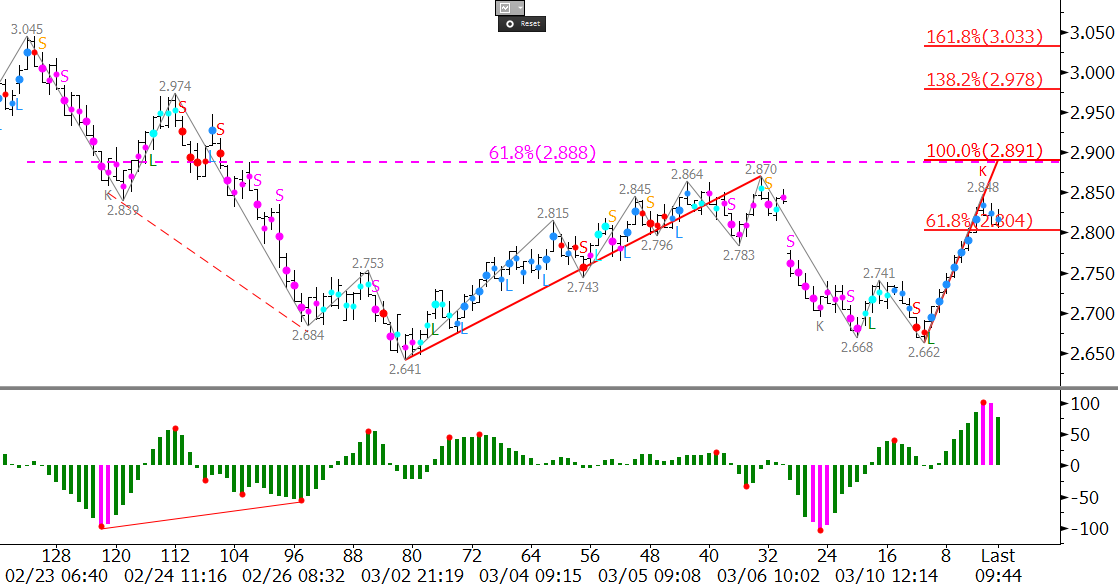 The first class long permissions (blue dots) for the Kase Easy Entry System (KEES) indicate the move up will likely continue, and that $2.89 should at least be tested tomorrow. However, the bearish KCDpeak (red K above 2.848) indicates the move up is already overbought on the 120-minute equivalent Kase Bar chart. A move above $2.848 would negate the KCDpeak, and as long as the KEES permissions remain long (blue dots) the near-term bias will remain positive.
Look for support at $2.73. A close below this over the next few days would shift the near-term bias back to negative and call for the $2.641 swing low to be challenged.
Learn more information about Kase's energy price forecasts.
Learn more about KEES, which is part of Kase StatWare.