RBOB gasoline prices are weak after stalling at 218.58. This was an important confluence point because it was the 50 percent retracement of the decline from 315.2 and the 0.618 target for the wave up from 122.65. The move up was exhausted once it reached 218.58 and negative factors like a bearish KasePO divergence have shifted near-term odds in favor of a pullback to 199.7 and 188.1 over the next few weeks.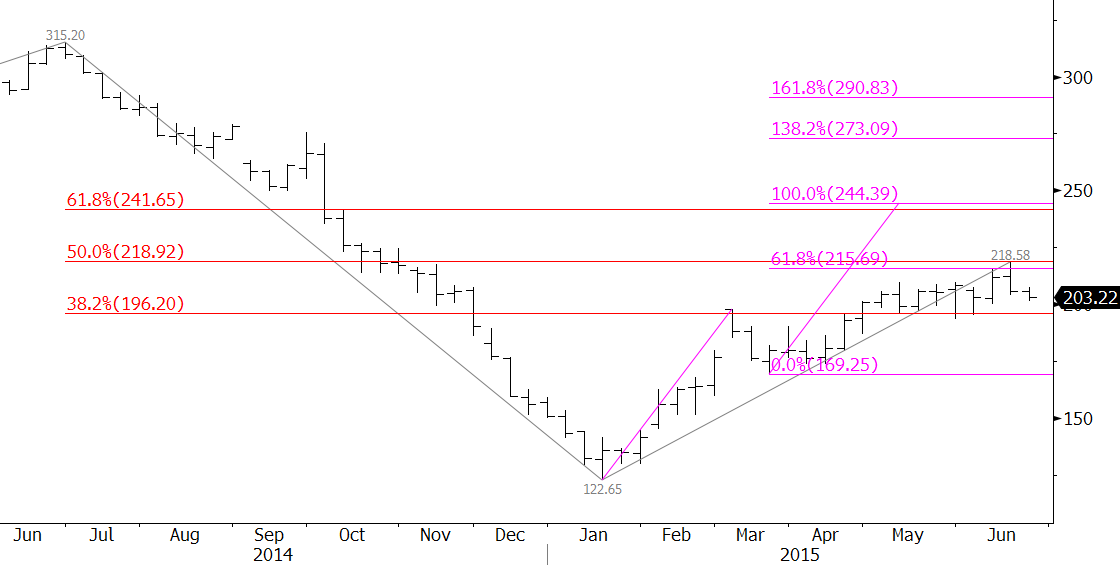 That said, the pullback is most likely corrective.
Our studies show that nearly 80 percent of waves that meet the 0.618 target extend to at least the 1.00 target, which is 244.39 for the wave up from 122.65. This is also near the 62 percent retracement from 315.2. The only way to negate a wave's projections is to take out the swing low of its correction, in this case, 169.25. Therefore, while 169.25 holds the longer-term outlook for gasoline is positive and favors an extension to 244.39.
Taking out the 244.39 swing low would be extremely bearish for gasoline prices. Right now we don't that will be the case, but closing below 188.1 support will go a long way to increasing the odds of ultimately taking out 169.25.
This is a brief analysis and outlook for the next day or so. Our weekly Crude Oil Commentary is a much more detailed and thorough energy price forecast. If you are interested, please sign up for a complimentary four week trial.