By Dean Rogers
Last week several top refiners reported a jump in their third quarter earnings compared to a year ago. Attractive crack spreads and refining margins due to lower oil prices and healthy demand for gasoline have helped refiners pump in profits. In addition, last week's rise in oil prices, which was partially attributed to a quick turnaround in the refinery maintenance season, has helped to stabilize gasoline futures and open the way for a test of key resistance near $1.43.
December gasoline futures have oscillated in a trading range bound between approximately $1.26 and $1.43 since early September. The most recent move up from $1.26 overcame resistance at $1.36 and is now poised to test the upper boundary of the range at $1.43. This is the 2.764 projection for the small wave $1.2621 – 1.323 – 1.2627, the 0.618 projection for the wave $1.1756 – 1.4604 – 1.2621, and the 38 percent retracement of the decline from $1.8392 to $1.1756. There is a good chance that $1.43 will hold, but a close over this would open the way for at least $1.55.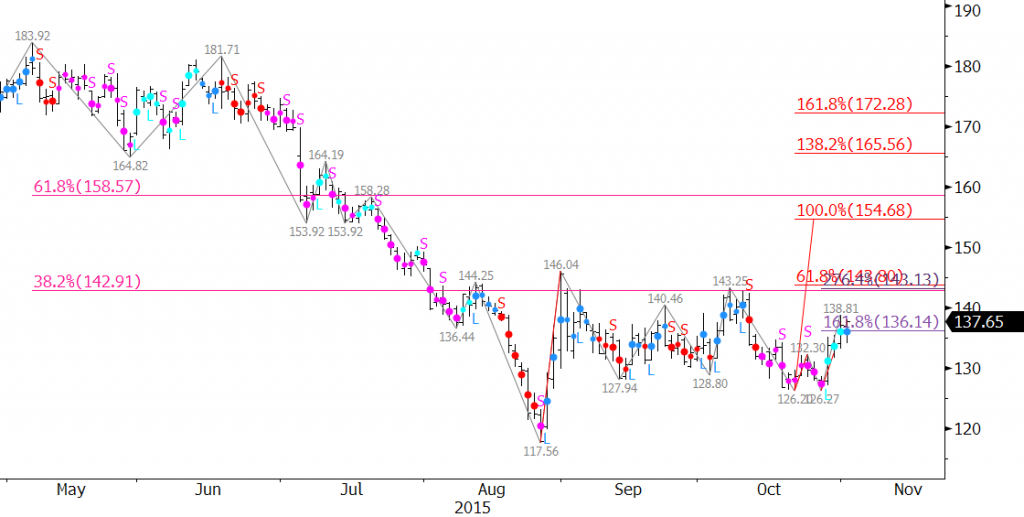 The Kase Easy Entry System (KEES), which is based upon a sophisticated algorithm that accounts for multiple momentum indicators, bar lengths, swings, and bar structure, confirms the positive bias in the near term. The blue dot indicates that the underlying indicators and bar lengths are permissioned for long trades to be taken.
Prices are expected to reach at least $1.43 before another turn lower to test support takes place. For now, look for immediate support at $1.31 and for key support at $1.26. A close below the latter would call for the late August low of $1.1756 to be challenged.
This is a brief analysis and outlook for the next day or so. Our weekly Crude Oil Commentary is a much more detailed and thorough energy price forecast. If you are interested, please sign up for a complimentary four week trial.