WTI's move up has been resilient for the past few weeks. The waves up from $29.85 may be interpreted as either a five-wave trend that is still forming Wave III or a three wave correction that has nearly completed Wave C. Technical factors indicate May WTI is approaching a decision point at $43.1.
In either case, whether the move is five waves or three waves, Wave A or I should meet the 1.618 projection at $43.1. A correction should then take place. The correction will determine whether or not the move up is a five-wave trend.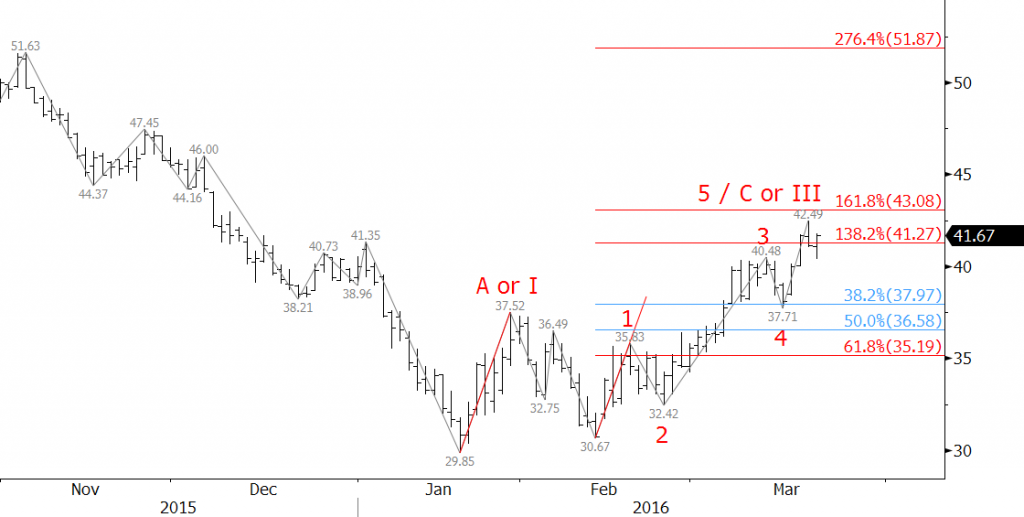 Key support will be $38.0. This is the 38 percent retracement and is in line with the $37.52 swing high of Wave A or I.
A close below $38.0 would indicate the move up from $29.85 was a three wave correction. There is no evidence yet that prices will plummet to new lows. Therefore, upon a close below $38.0, a trading range in the mid-$30 is the most likely scenario.
Should prices hold above $38.0 and subsequently close over $43.1, the move up is most likely a five-wave pattern that will extend toward the 2.764 projection of $51.9. A move of this magnitude will take time, and should form another sub five-wave count like Wave III has. It will also likely be backed by a positive shift in underlying fundamentals.
This is a brief analysis and outlook for the next day or so. Our weekly Crude Oil Commentary is a much more detailed and thorough energy price forecast. If you are interested in learning more, please sign up for a complimentary four-week trial.