The highly anticipated natural gas correction is underway. The wave $1.611 – 1.74 – 1.687 overcame its $1.758 0.618 projection Wednesday morning. The correction should extend to at least $1.81, the 1.00 projection. A close over $1.758 would have increased odds for $1.81. Nonetheless, as long as the $1.687 swing low holds on a closing basis the move up should extend.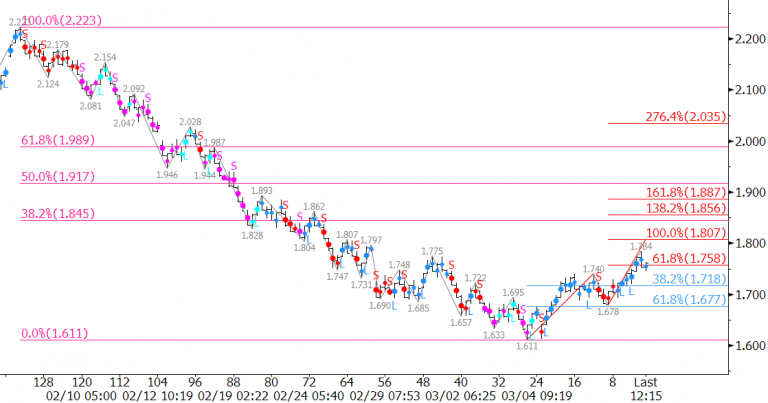 $1.81 connects to $1.86 as the 1.382 projection and 38 percent retracement of the decline from $2.223 to $1.611. $1.86 is a potential stalling point due to its confluence. A close over $1.86 would call for $1.91, the 1.618 projection and 50 percent retracement.

Key resistance is $2.00, the 62 percent retracement. As discussed in the weekly commentary, we doubt prices will overcome $2.00 without a bullish shift in underlying fundamentals.
Key support is $1.68 because it is the 62 percent retracement of the move up from $1.611 and in line with the $1.687 swing low. A close below this would indicate the upward correction may be complete and would significantly dampen odds for $1.81 and higher.
This is a brief natural gas forecast for the next day or so. Our weekly Natural Gas Commentary is a much more detailed and thorough analysis. If you are interested in learning more, please sign up for a complimentary four-week trial.