By Dean Rogers
It looks as though the natural gas rally has stalled and that prices will most likely settle into a trading range. The move up had been resilient for the past few weeks, reaching a crucial target at $1.91 and nearly extending to key resistance just above $2.00. However, the lack of a positive shift in underlying fundamentals has put a lid on prices, for now.
April natural gas is poised to test key support at $1.74 ahead of the holiday weekend. Wednesday's close below $1.80, the 0.168 projection of the wave $1.957 – 1.796 – 1.899, has shifted odds strongly in favor of at least $1.74, the 1.00 projection. This is also the 62 percent retracement of the move up from $1.611 to $1.957. A close below $1.74 would call for $1.68 and very likely $1.65. The latter is the 1.618 projection, 89 percent retracement, and last support protecting the $1.611 low.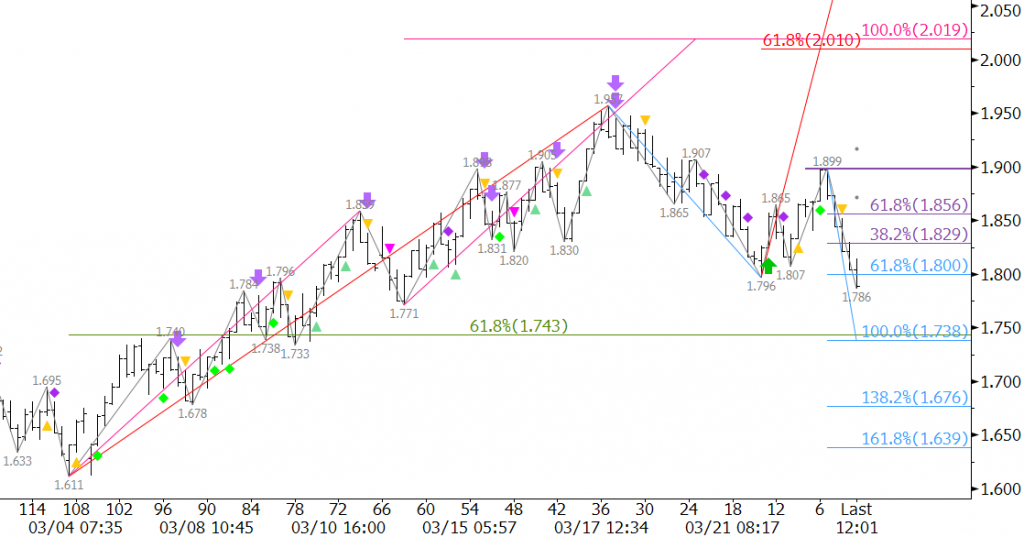 Longer-term, the outlook for natural gas remains bearish. However, we do not foresee prices making new lows yet. The most likely scenario, during the first few weeks of injection season, is a trading range between nominally $1.65 and $1.95. This is similar to the type of range seen last year between $2.55 and $2.95.
There is a reasonable chance that prices will test Wednesday's $1.83 midpoint before declining to $1.74. This is also the 38 percent retracement of the move down from $1.899. A close over $1.83 would call for $1.90 again. This is key resistance because a move above $1.90 would wipe out the wave down from $1.957 and its potential to extend to $1.74 and lower.
This is a brief natural gas forecast for the next day or so. Our weekly Natural Gas Commentary is a much more detailed and thorough analysis. If you are interested in learning more, please sign up for a complimentary four-week trial.