The crude oil market as a whole has continued to be dominated by stale and conflicting fundamental, technical, and geopolitical factors. These factors have brought about as much balance to the crude oil markets as Anakin Skywalker brought to the force. The most interesting factor is that many market participants seem to forget that markets have three direction: up, down, and sideways. Right now, WTI is stuck in a mind numbing sideways range. I say this because it is almost as exciting as watching the grass in my backyard grow.
During times like this we tend to grow impatient and frustrated. The easiest way to deal with a range bound market is to walk away, take a few deep breaths, work on our short game, and come back to play another day. However, we don't all have that luxury, and have no choice but to participate and be driven insane by the constant change of direction and endless supply of chalky antacids we are popping like candy.
Luckily, technical analysis can help us to clarify the crucial breakout points for this range. Our models, which are based upon a combination of many different technical factors, show crucial resistance at $62.0 and support at $57.5. In addition, the line on close chart shown below confirms that these are the clear boundaries of the trading range. A break out of this range will help determine the direction for the next few months.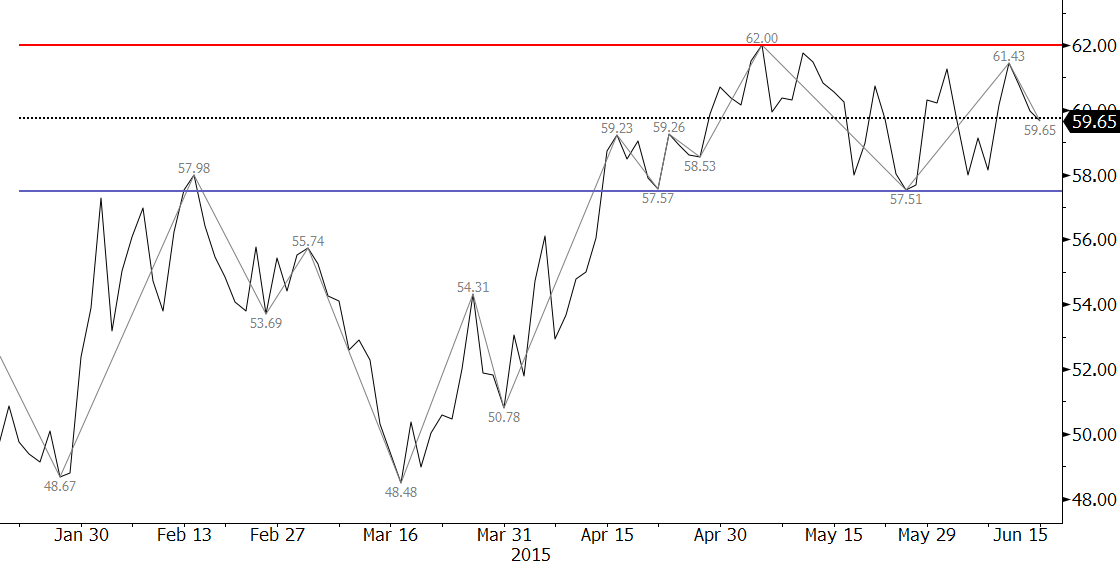 The challenge is that it is nearly a toss-up as to which direction the market will break.
Our weekly Crude Oil Commentary goes into great detail about the implications of a break higher or lower out of this range. We break down the wave formations, retracements, candlesticks, momentum, and other factors. The bottom line is that the range may be corrective, which means prices should break higher. However, our models show that that $57.5 will be tested at least once more before WTI closes over $62.0.
This is a brief analysis and outlook for the next day or so. Our weekly Crude Oil Commentary is a much more detailed and thorough WTI and Brent crude oil price forecast. If you are interested, please sign up for a complimentary four week trial.