Day-to-day speculation regarding summer weather forecasts continue to dominate short-term natural gas prices. The lack of clarity has caused natural gas to settle into a range between $2.55 and $2.95 after failing to close over the upper end of the range last week.
Technical factors show that prices are due for a test of the lower end of the range where contract lows will be challenged. Because the wave down from $2.955 (shown in red) met its 0.618 projection we expect to see at least its 1.00 projection of $2.62. This is also the 0.618 for the wave down from $3.105 (shown in blue).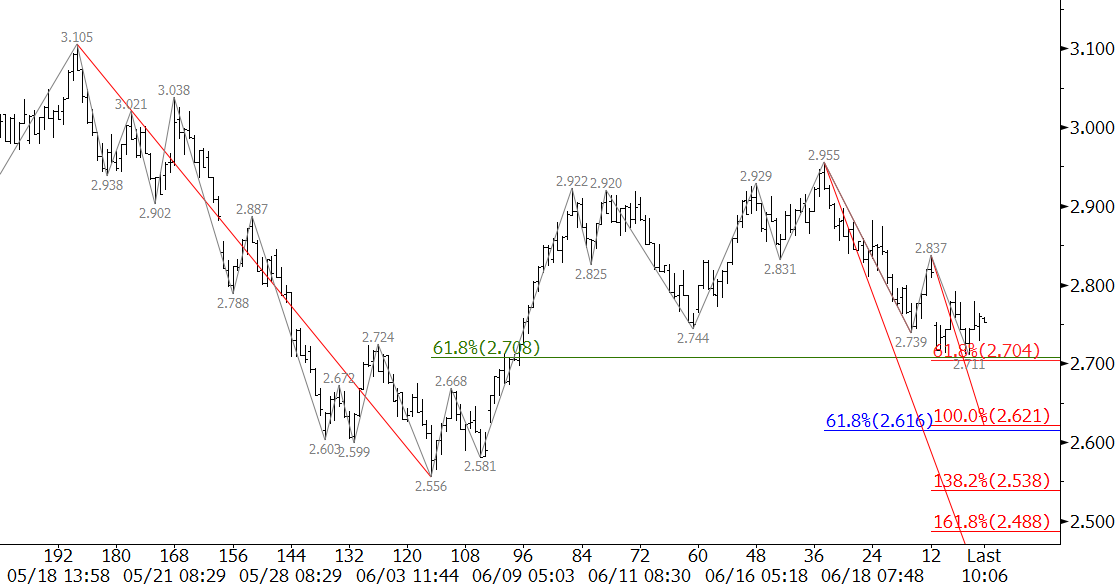 That said, it is still early for support to give way to the longer-term bearish trend, so the decline will likely be a grind. Support at $2.71 is holding strong, but a disappointing EIA storage report tomorrow would clear the way for $2.62. This is a confluence point just like $2.71, so $2.62 should hold.
Key resistance is $2.83 because it is in line with the $2.837 swing high. Overcoming $2.837 will take out the wave down from $2.955 and negate the near-term potential for $2.62.
This is a brief natural gas forecast ahead of tomorrow's EIA report. Our weekly Natural Gas Commentary is a much more detailed and thorough analysis. If you are interested, please sign up for a complimentary four week trial.