WTI Crude Oil
WTI crude oil's trend remains bullish but is still showing signs of exhaustion. Daily and weekly momentum indicators are overbought and setup for bearish divergence, the weekly candlesticks continue to form long upper shadows, and before yesterday's rise to a new high the daily chart formed a series of spinning tops, a shooting star, and an evening star. The challenge is that reversal patterns like these have been set up for the past few weeks or continue to form, but there has been no follow-through to confirm the patterns.
Today's pullback and test of yesterday's $71.9 midpoint provides another opportunity for WTI crude oil prices to follow-through on a much-needed correction. The small waves down from $72.9 call for a test of Monday's $71.5 open, a close below which would call for $70.9 and possibly lower.
Even so, relative odds (based on the number of times a target is found within our analysis) indicate $70.9 will probably hold and that the move up should extend to $73.2 soon. A move above $72.6 before $71.5 is met would shift near-term odds back in favor of $73.2. This target has the highest relative odds, and due to its confluence is another potential stalling point for WTI. Settling above $73.2 would open the way for $74.4 and higher.
With all factors considered, look for a test of at least $71.5 and possibly $70.9 tomorrow. Support at $70.9 should hold and until proven otherwise the move up will likely extend to $73.2. Therefore, at this point, any pullback will likely be corrective and could provide a buying opportunity for traders that have recently taken profit or missed the opportunity to add to long positions Monday.
Brent Crude Oil
Brent crude oil formed a double top at $80.5 and today's shooting star reversal pattern setup calls for a test of at least $78.9 tomorrow. A close below this would confirm the shooting and open the way for a test of the double top's $78.1 confirmation point. This is key support for the near-term, a close below which would call for an extended downward correction to $77.2 and possibly lower (the double top's target is $75.7).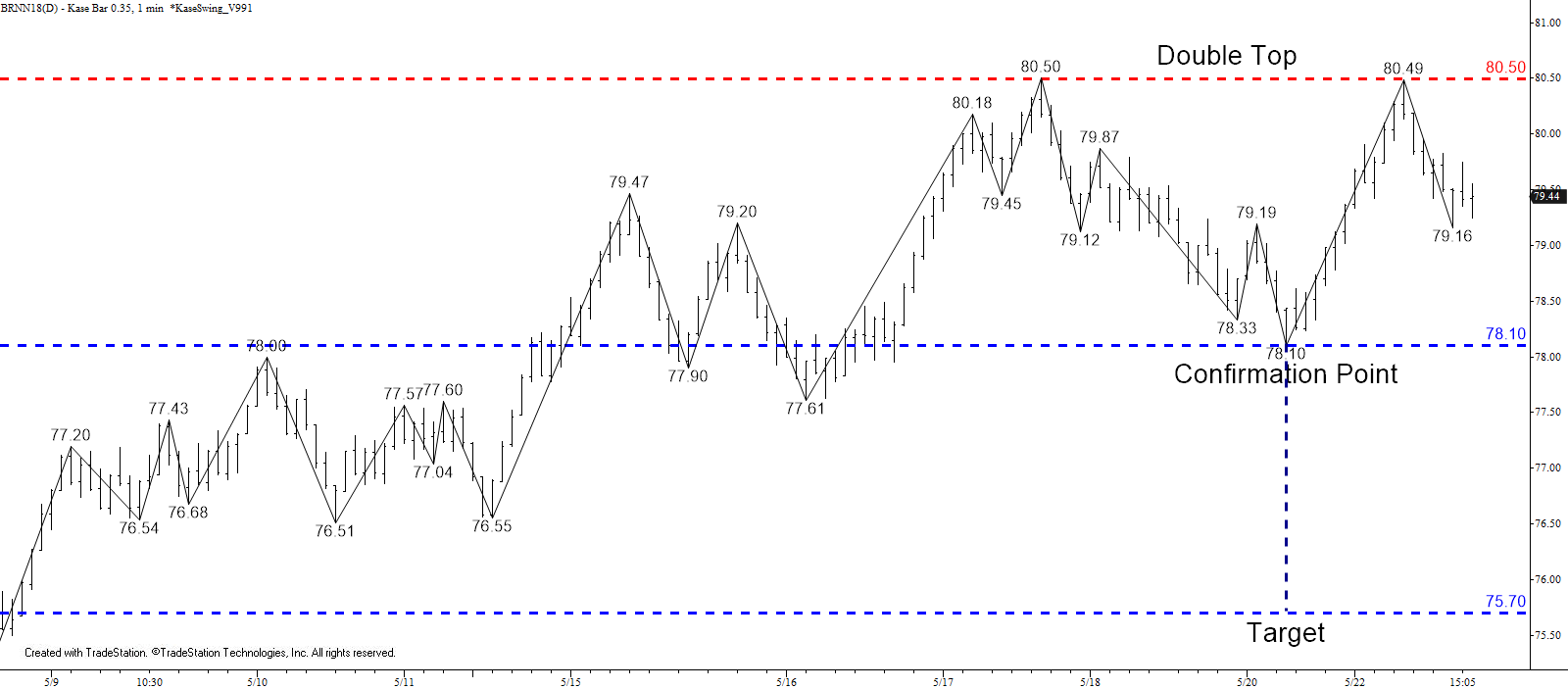 That said, reversal patterns like the double top and shooting star have been set up repeatedly and failed during the past few weeks. In addition, relative odds indicate that any move down right now will most likely be corrective and that eventually, prices should rise to $81.6. For now, though, $80.0 should hold and key resistance is $80.5. A close above $80.5 would shift near-term odds back in favor of a continued rise to $81.6.
This is a brief analysis for the next day or so. Our weekly Crude Oil Forecast and daily updates are much more detailed and thorough energy price forecasts that cover WTI, Brent, RBOB Gasoline, Diesel, and spreads. If you are interested in learning more, please sign up for a complimentary four-week trial.