WTI Crude Oil Price Forecast
The outlook for WTI crude oil is bullish. There are no reversal patterns or confirmed signals that call for the move up to stall. Therefore, traders will likely continue to buy the dips until the market proves otherwise.
The sustained close above $35.1 for the third straight day is bullish for the near-term outlook. This was the equal to (1.00) target of the primary wave up from $17.27 and in line with the 38 percent retracement of the decline from July's $62.95 swing high. During the next few days, WTI is expected to work its way to at least $37.9 and likely $39.2 before another major test of support. Closing above $39.2 will clear the way for $40.1 and then $41.8, the latter of which is near the bottom of the March 9 gap down from $41.88.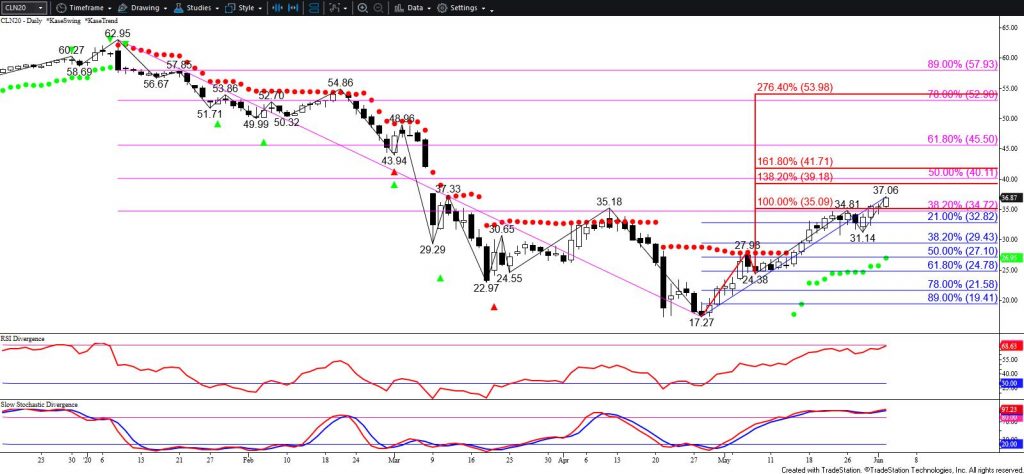 That said, daily and weekly momentum oscillators are overbought, the wave formation is extended, and a correction is due. As stated in yesterday's update, the question has become not 'if' but 'when' WTI will turn lower and correct in a significant manner. Based on the charts, the next likely stalling points are $39.2 and $41.8.
For the interim, look for immediate support at $35.7 and key near-term support at $34.7. Closing below $34.7 will call for $33.9 and possibly $32.8 before the move up continues.
Brent Crude Oil Price Forecast
Brent continues to rally and is poised to reach at least $40.4 and possibly $41.6 before another significant test of support.
Nonetheless, the move up is overbought and due for a correction. The next most likely stalling point is $40.4, but there are no patterns or signals that imply this level will hold.
Should Brent fall below $38.6, look for key near-term support at $37.4. Settling below $37.4 will call for a deeper test of support with thresholds at $36.9 and $36.1, before the move up continues.
This is a brief analysis for the next day or so. Our weekly Crude Oil Forecast and daily updates are much more detailed and thorough energy price forecasts that cover WTI, Brent, RBOB Gasoline, Diesel, and spreads. If you are interested in learning more, please sign up for a complimentary four-week trial.