Gold Price Forecast
The long-term outlook for gold remains bullish. However, the near-term outlook calls for a larger test of support before the move up continues.
During the last few days, gold prices have fallen back into the range of a bullish coil that prices had broken higher out of on May 14. Yesterday, gold tested and held the lower trend line of the pattern and today the upper trend line. This afternoon's decline from the upper trend line formed a long upper shadow on the daily candlestick, which is negative for the outlook during the next few days.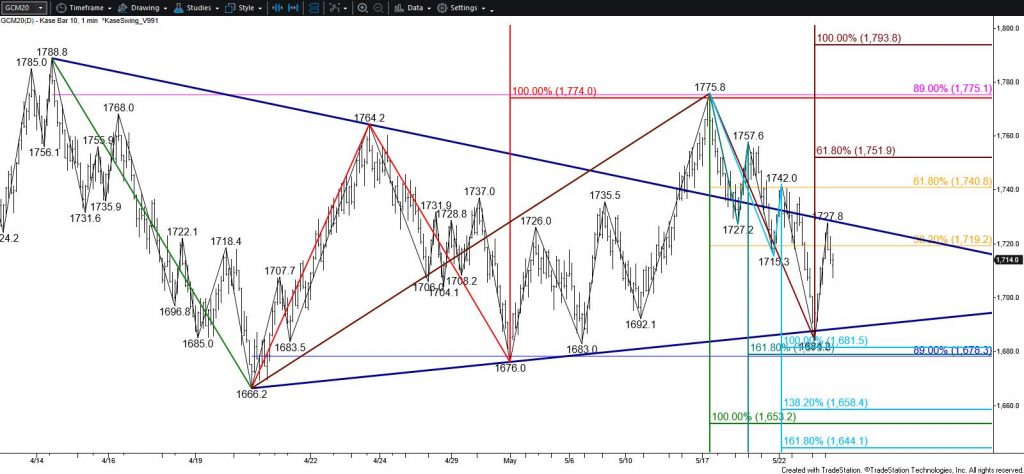 The primary wave down from $1788.8 has taken out its smaller than (0.618) target. Most waves that take out the smaller than target extend to the equal to (1.00) target, in this case, $1653. Therefore, near-term odds favor a larger downward correction where $1653 is the key objective. Tomorrow, look for at least $1697 and possibly $1681. Closing below $1681 will significantly increase odds for $1653. Nonetheless, at this point, the move down is most likely corrective and $1653 is expected to hold.
Conversely, should gold overcome $1741, the 62 percent retracement of the decline from $1755.8, near-term odds will shift in favor of $1752, which then connects to $1775 and eventually $1796.
Silver Price Forecast
July silver is working its way back toward the $18.165 swing high and overcame the $18.08 equal to (1.00) target of the wave up from $17.19 today. Ultimately, silver is expected to reach $19.55, the equal to target of the primary wave up from $11.68. The connection to $19.55 is made through $18.40 and then $18.60. Rising to $19.55 will likely take at least another few weeks.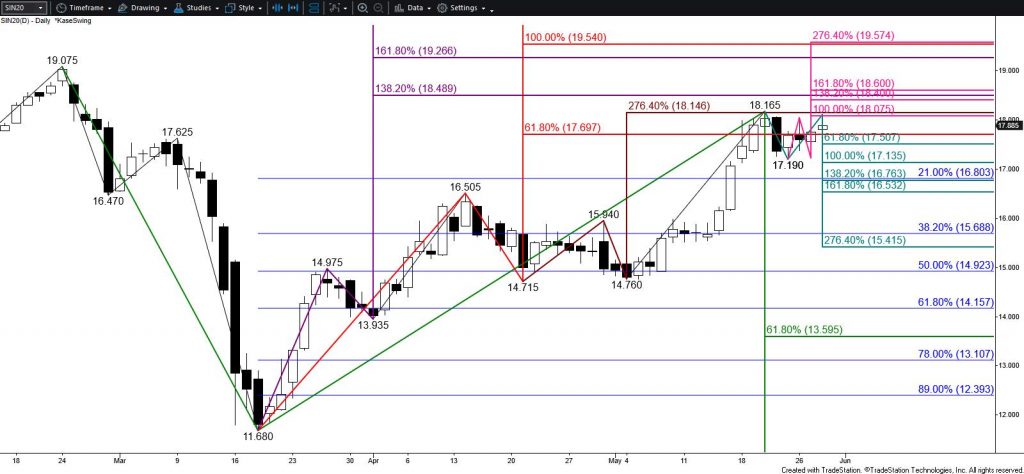 Nonetheless, because the $18.08 target held on a closing basis today, a small test of support might take place first. Support at $17.52 is expected to hold. Closing below this will call for a test of $17.14. Settling below $17.14 is doubtful and would reflect a bearish shift in near-term sentiment. This would also open the way for a much more substantial test of support before the move up continues toward $19.55 as expected.
This is a brief analysis for the next day or so. Our weekly Metals Commentary and daily updates are much more detailed and thorough energy price forecasts that cover key COMEX precious metals futures contracts and LME Non-Ferrous (Base) metals, spot gold, the gold/silver ration, and gold ETFs. If you are interested in learning more, please sign up for a complimentary four-week trial.