On Tuesday, crude oil prices continued to slip lower. Technical factors indicate June WTI's corrective decline from $54.14 is poised to extend to at least $52.2. This is the 1.618 projection of the wave $54.14 – 53.14 – 53.8 and the 50-day moving average. A close below $52.2 would call for key near-term support at $51.6. This target is crucial because it's the 38 percent retracement of the move from $47.58 to $54.14 and the 200-day moving average.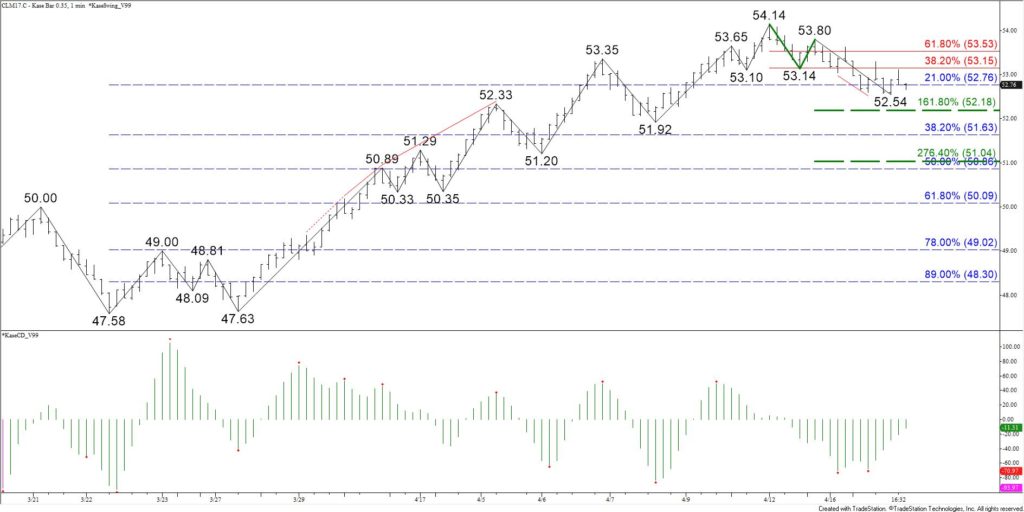 That said, a bullish KaseCD divergence on the $0.35 Kase Bar chart indicates another test of $52.2 and possibly $53.6 might take place first. Resistance at $53.6 is expected to hold. A close over this would call for $54.3. However, a sustained close over $54.0 is the key to a continued rise. This is the 62 percent retracement of the decline from $57.95 to $47.58.
This is a brief analysis and outlook for the next day or so. Our weekly Crude Oil Commentary and intra-week updates are much more detailed and thorough energy price forecasts that cover WTI, Brent, RBOB Gasoline, Diesel, and spreads. If you are interested in learning more, please sign up for a complimentary four-week trial.