September WTI crude oil's correction up from $39.19 gained ground on Monday when it settled above $42.8. Media outlets indicate the rise was due renewed hopes that OPEC members might consider freezing production levels. OPEC announced on Monday that they would hold informal talks at an energy conference in September.
That said, from a technical perspective, the move down was due for a correction. September WTI briefly moved into bearish territory last week when it settled below $40.4. However, a highly confluent and important $39.2 target held when the $39.19 swing low was made. The Stochastic has since risen out of oversold territory, and several intraday charts confirmed bullish momentum divergences.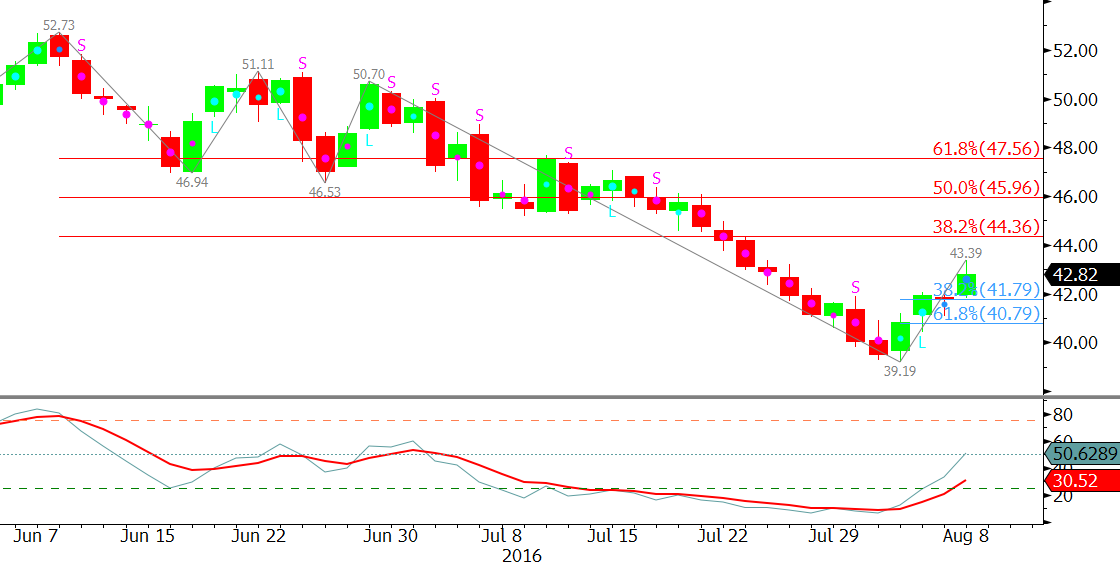 Friday's hanging man candlestick pattern was negative by Monday's close over $42.8. This opens the way for $44.4. This is the 38 percent retracement of the decline from $52.73 to $39.19 and an important decision point for the near-term. If the move down is going to continue within the next few weeks, $44.4 should hold. However, a close over $44.4 would call for an extended correction and could be an early indication that another long-term bottom has been made.
As the move up extends over the next few days, look for near-term support at $42.5, $41.8, and $40.8. The $42.5 level will probably be tested early Tuesday, but should hold. This is near Monday's midpoint. Key support is $40.8 because it is the 62 percent retracement of the move up from $39.19. A close below this would shift odds in favor of testing $39.19 again.
This is a brief analysis and outlook for the next day or so. Our weekly Crude Oil Commentary and intraweek updates are a much more detailed and thorough energy price forecast. If you are interested in learning more, please sign up for a complimentary four-week trial.