By Dean Rogers
Tension between Saudi Arabia and Iran have the oil markets on edge. The global supply glut still hangs heavy and will reportedly last through 2016. However, recent the geopolitical tensions could push prices higher on fear and greed alone.
The indecisiveness is being reflected on the charts. WTI's recent move up from $35.35 has been choppy, and is most likely corrective. However, it did form an intraday bullish flag last week. We do not put much weight into the flag though because its $36.22 swing low is only $0.87 higher than the $35.35 contract low.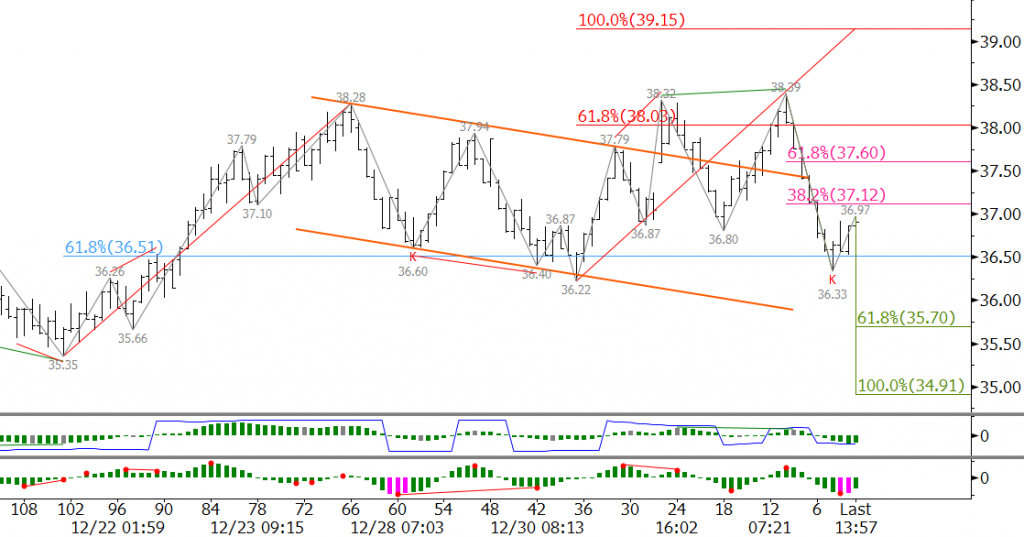 WTI broke higher out of the flag early Monday, but failed to close above the upper trendline of the formation. This was negative, and the move down was preceded by a bearish KasePO divergence. Another test of support at $36.5 took place, but has held so far on a closing basis. $36.5 is the 62 percent retracement of the move up from $35.35 to $38.39. A KCDpeak (oversold) signal formed at $36.33.
The price action has now given us a clearly defined range between $36.5 and $38.0. Odds favor a close below $36.5. This would call for $35.7, which then connects to $34.91. Trading will remain choppy though, and external factors combined with the KCDpeak could still push prices higher. A close over $38.0 would call for the correction to extend to $39.2. For now, we do not see WTI rising much higher than $39.2.
This is a brief analysis and outlook for the next day or so. Our weekly Crude Oil Commentary is a much more detailed and thorough energy price forecast. If you are interested in learning more, please sign up for a complimentary four-week trial.