By Dean Rogers
Evolving weather models that had previously predicted a cold spell in the Northeast U.S. and in the Great Lakes region are reportedly now forecasting above normal temperatures in early January. This could dampen the likelihood of a further price rally for natural gas in coming weeks, and the charts tend to agree.
Today's decline was quite negative for the near-term outlook, and $2.16 is an important target that should be tested in coming days. This is near the 0.618 projection of the wave down from $2.386 and the 38 percent retracement of the move up from $1.80. A close below $2.16 would call for $2.09 and $2.03.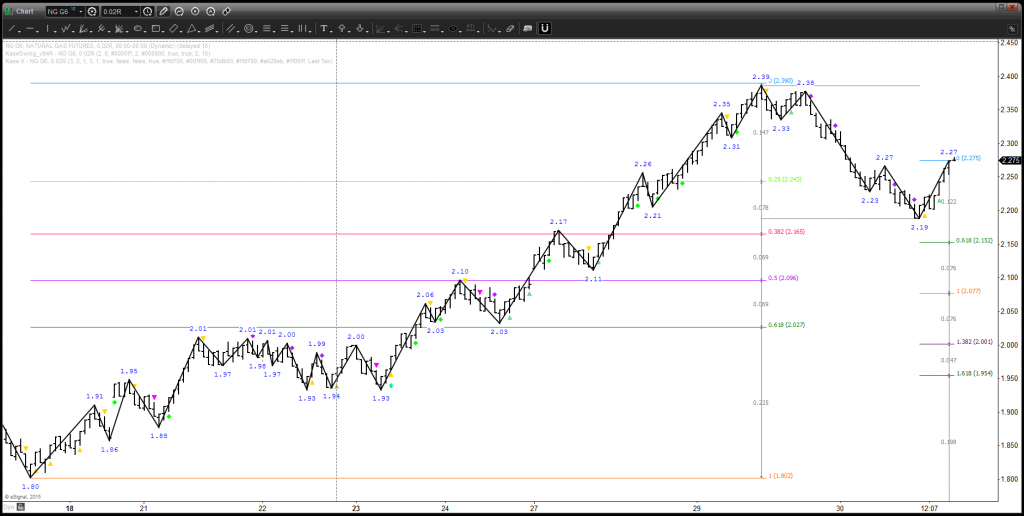 That said, this is a tough call right now because the market still seems desperate to rally after recently falling to 16 year lows. Wednesday's decline could be a correction of the move up as prices attempt to extend toward a highly confluent $2.51 level. The late rally in trading after hours on Wednesday indicates $2.31 and even $2.37 might be tested in early trading ahead of Thursday's EIA Natural Gas Storage report. We expect $2.37 will hold.
It is a bit early to call for a trading range, but we get the sense that is the most likely scenario for natural gas in coming weeks. The boundaries of the range could be quite wide, between approximately $2.03 and $2.37. Trading over the next few days should give us a better sense of what is in store for natural gas prices in early 2016.
This is a brief natural gas forecast for the next day or so. Our weekly Natural Gas Commentary is a much more detailed and thorough analysis. If you are interested in learning more, please sign up for a complimentary four-week trial.