By Dean Rogers
There is little doubt that the lack of demand for natural gas as a heating fuel this winter is taking its toll on prices. The market still looks and feels desperate to push higher, but fundamental and technical factors are working against this scenario. There is an outside chance prices could rally by another 10 to 15 cents on a close over $2.39, but we do not expect the move up to last much longer without a significant boost from external factors. In other words, it is going to have to get really cold, really soon, in key areas of the U.S., and last for several consecutive weeks for the move up to continue to any significant degree.
The move up from fresh 16 year lows stalled at $2.39 on December 29 and has subsequently oscillated in a narrowing range. A coil, or possibly an ascending triangle, has formed, and prices briefly broke lower out of the formation before Wednesday's settlement. The formation indicates a breakout should take place very soon as the pattern nears its apex. The key levels to watch are $2.26 and $2.39.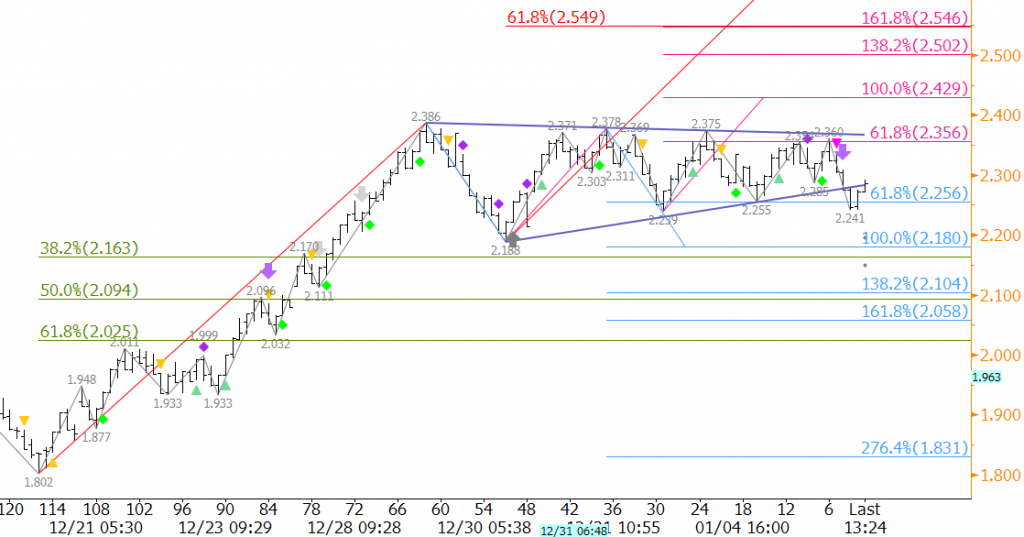 Odds favor a break lower due to KaseX's bearish turn signal (purple arrow) on the 3.5-cent Kase Bar chart. A close below $2.26 would call for $2.17 and $2.09.
As stated, there is a modest chance that prices could rally 10-15 cents on a close over $2.39. However, even if this is the case, we do not expect prices to overcome $2.55 given current circumstances.
This is a brief natural gas forecast for the next day or so. Our weekly Natural Gas Commentary is a much more detailed and thorough analysis. If you are interested in learning more, please sign up for a complimentary four-week trial.