By Dean Rogers
March WTI pulled back from its $31.53 swing high made in early trading Tuesday after several nations, including Saudi Arabia and Russia, agreed to freeze production at current levels.
While this might be a step in the direction of a long-term recovery, halting output at current levels would do little for a market that is already oversupplied.
In addition, and most importantly, the deal is strapped with a major caveat: Iraq, Iran, and other large producers would also have to halt production increases. Reports indicate that Iran has balked at the idea of halting production levels as they aim to return their output to presanctions levels.
Regardless of the reasons for the move up, from a technical standpoint, the outlook for oil remains weak. WTI was due for a correction when the 1.382 projection of the wave $34.82 – 29.4 – 33.6 was met at $26.05. There were also plenty of positive technical factors leading into the correction. However, the move up stalled at $31.53 when several intraday momentum indicators, including KaseX, triggered overbought signals. In addition, $31.53 was near the 62 percent retracement of the decline from $34.82 to $26.05.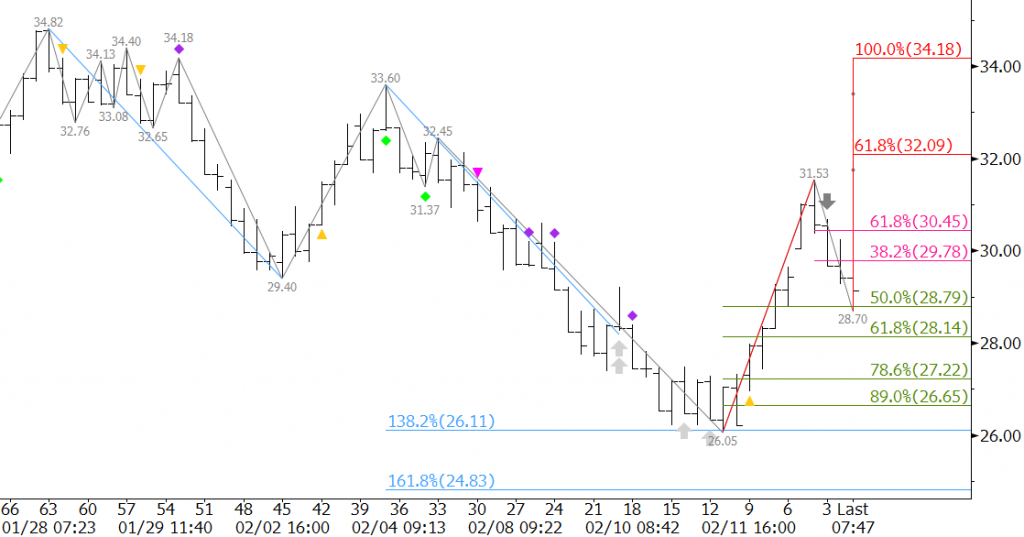 Prompt month March futures have already retraced 50 percent of the move from $26.05 to $31.53. March is now poised to test support at $28.3. This is Friday's midpoint and near the 62 percent retracement. A close below $28.3 would call for $27.3, Friday's open, and then $26.7, the last target protecting the $26.05 low.
There is an outside chance that the move up could continue, and corrections of such a swift decline are bound to take place. Prices must overcome at least $30.5 to show the upward correction will possibly extend to $32.1 and higher.
This is a brief analysis and outlook for the next day or so. Our weekly Crude Oil Commentary is a much more detailed and thorough energy price forecast. If you are interested in learning more, please sign up for a complimentary four-week trial.