The U.K.'s vote for Brexit came as a shock to many investors and traders around the world. Equity markets have tumbled and crude oil followed suit as the U.S. dollar has risen substantially. Some pundits think the downturn in oil has been overdue, and warn that the market is still oversupplied and could slip further in coming weeks and months. Others hold the recovery will continue and that the decline is likely an overreaction to Brexit.
It is clear that sentiment is mixed. However, charts tell a clearer story. The long-term bias is positive, and ultimately odds still favor the move up. However, the downward correction is poised to continue for the near-term.
Negative Factors
August WTI met confluent support near $46.0 on Monday. This was in line the 0.618 projection of the wave $50.54 – 46.7 – 48.45 and 1.382 projection of the wave $48.45 – 46.92 – 47.96. Near-term odds favor a decline to at least $44.7, the 1.00 projections of the waves $52.28 – 46.4 – 50.54 and $50.54 – 46.7 – 48.45. This is a very important target and decision point for WTI. A close below $44.7 would open the way for targets in the low $40s. It is at those targets that the market will need to decide whether the move up will continue or a long-term bearish outlook would be adopted again.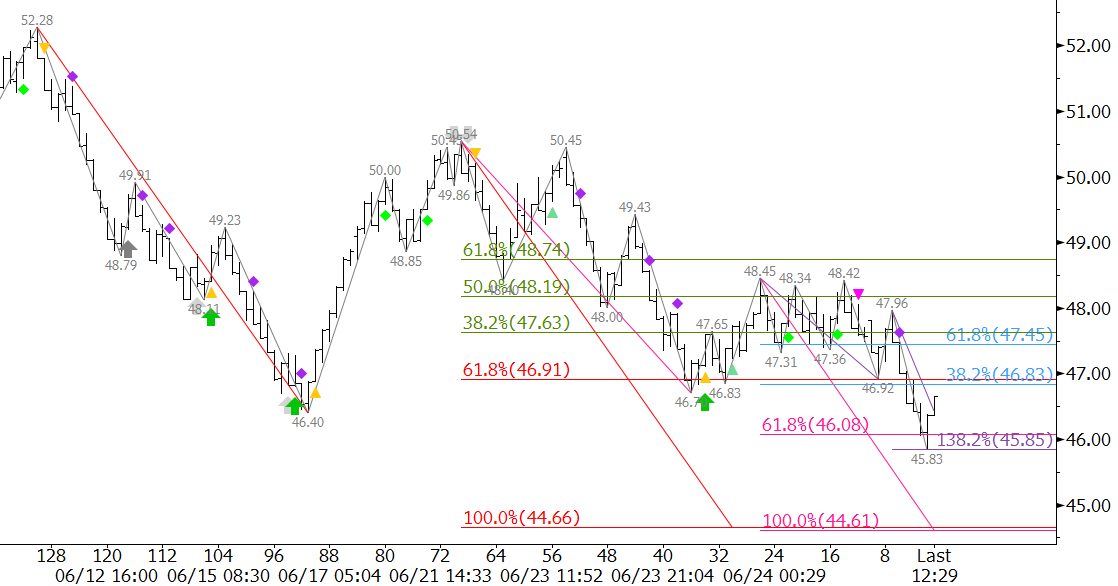 Positive Factors
The upward correction that began late Monday afternoon may extend to $46.8 and even $47.5 in early trading Tuesday. However, $47.5 should hold. A close over $47.5 would call for a test of key resistance levels above $50.0, that if overcome, would indicate the downward correction is over.
This is a brief analysis and outlook for the next day or so. Our weekly Crude Oil Commentary is a much more detailed and thorough energy price forecast. If you are interested in learning more, please sign up for a complimentary four-week trial.