July natural gas rose to a new high for 2016 when it overcame the January 8 swing high of $2.635. The move up extended to crucial resistance near $2.75 and stalled. $2.75 is a confluent target. Most importantly, it is the 1.382 projection of the primary wave $1.949 – 2.427 – 2.08.
Negative Factors
July's decline on Wednesday is reportedly due to revised weather forecasts that call for cooler than previously expected temperatures over the next two weeks. In addition, some traders are allegedly concerned that factors behind the rapid price increase in recent weeks have been overhyped.
Momentum is setup for a bearish divergence on the KasePO and the Stochastic is in extreme overbought territory. There is also an evening star, which is a bearish candlestick reversal pattern. These factors indicate the correction that began late Wednesday afternoon should extend over the next few days.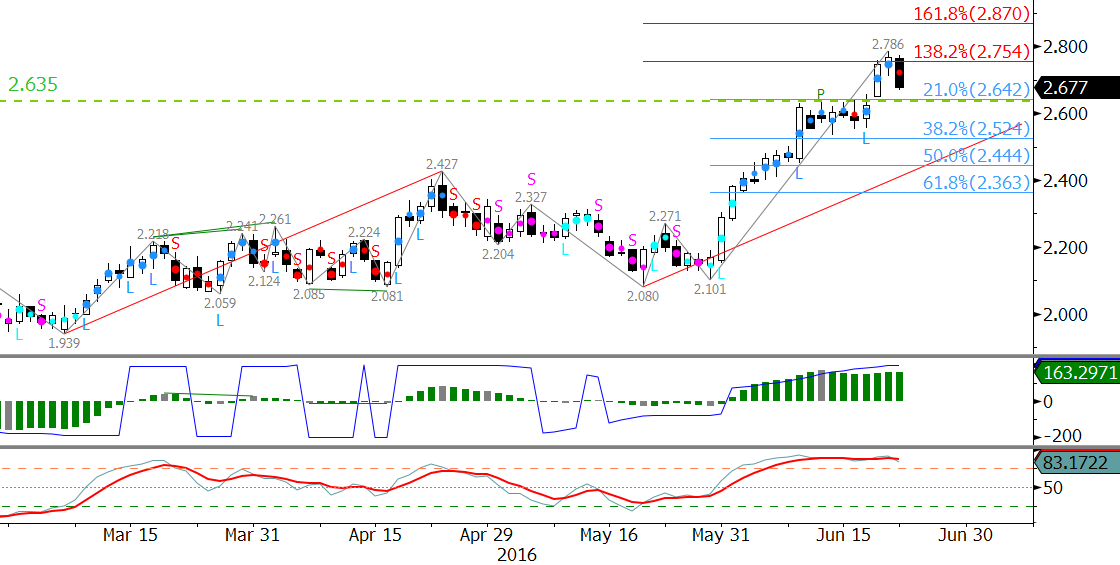 Look for $2.64 to be tested tomorrow (or even Wednesday afternoon). This is currently the 21 percent retracement from $2.101 to $2.786. This was strong resistance and will likely be resilient support. A close below $2.64 would open the way for $2.52, the 38 percent retracement from $2.101. A normal correction should hold $2.52. However, after such a strong move up, the correction might be larger than normal.
Positive Factors
The longer-term outlook for natural gas is positive. This downward correction will most likely form a complex Wave IV of a longer-term five-wave trend. However, should prices turn higher again tomorrow, look for resistance at $2.72 followed by $2.80 and most importantly $2.87. The latter is the 1.618 projection of the wave up from $1.949. A significant correction will almost certainly take place before $2.87 is overcome should the current correction stall before reaching at least $2.52.
This is a brief natural gas forecast for the next day or so. Our weekly Natural Gas Commentary is a much more detailed and thorough analysis. If you are interested in learning more, please sign up for a complimentary four-week trial.