By Dean Rogers
The darkest hour is just before the dawn. It is a phrase that most are familiar with that provides hope, even in the worst of circumstances. The outlook for WTI crude oil prices has been "dark" in recent weeks, and the longer-term outlook is still dim. However, December 14's close over $36.13 provides a small shimmer of hope that a correction might finally be underway.
January WTI met a confluent and structurally crucial support target near $35.0 on December 14 and closed above December 11's $36.13 midpoint to form a bullish piercing pattern. The piercing pattern is an early indication that a sustainable correction might finally be underway. A close over the pattern's $36.63 confirmation point (December 11's open) would call for at least $37.9, the 38 percent retracement from $43.46 to $34.53.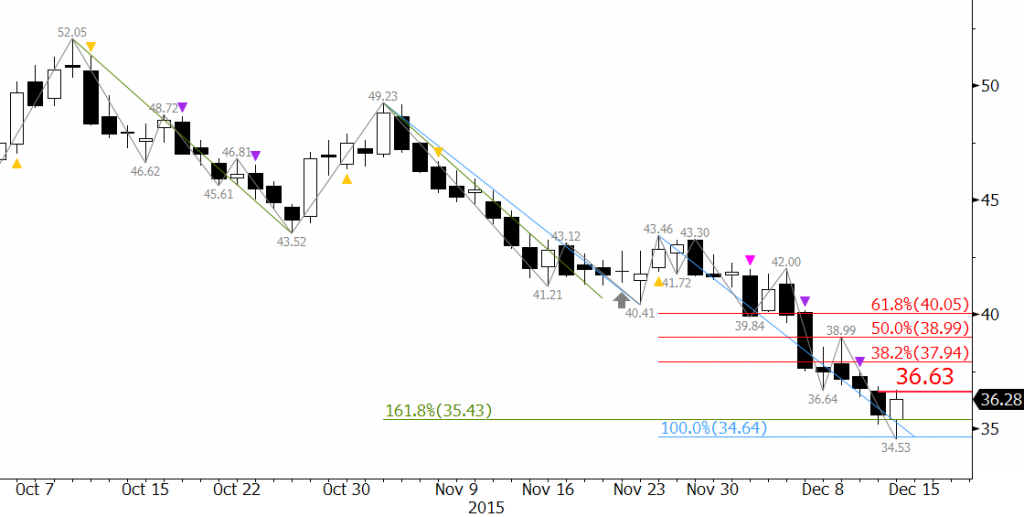 The move up will most likely be corrective, but a substantial correction is long overdue. KaseX is not showing any signs of a turn yet, and the piercing pattern's $36.63 confirmation point was tested and held. This dampens the likelihood of a reversal, but does not wipe out the potential completely. A close below $35.4 would negate the piercing pattern and call for the decline to continue towards the December 2008 perpetual swing low of $32.4.
Therefore, if the sun is going to rise $35.4 must hold and January WTI will need to close over $36.63 and then $37.9 within the next few days.
This is a brief analysis and outlook for the next day or so. Our weekly Crude Oil Commentary is a much more detailed and thorough energy price forecast. If you are interested in learning more, please sign up for a complimentary four week trial.