By Dean Rogers
Natural gas is still looking for support from weather, but until cold temperatures arrive in key areas of the U.S. prices should continue to grind lower. The negative bias is confirmed by KaseX's filtered short signal (purple diamonds).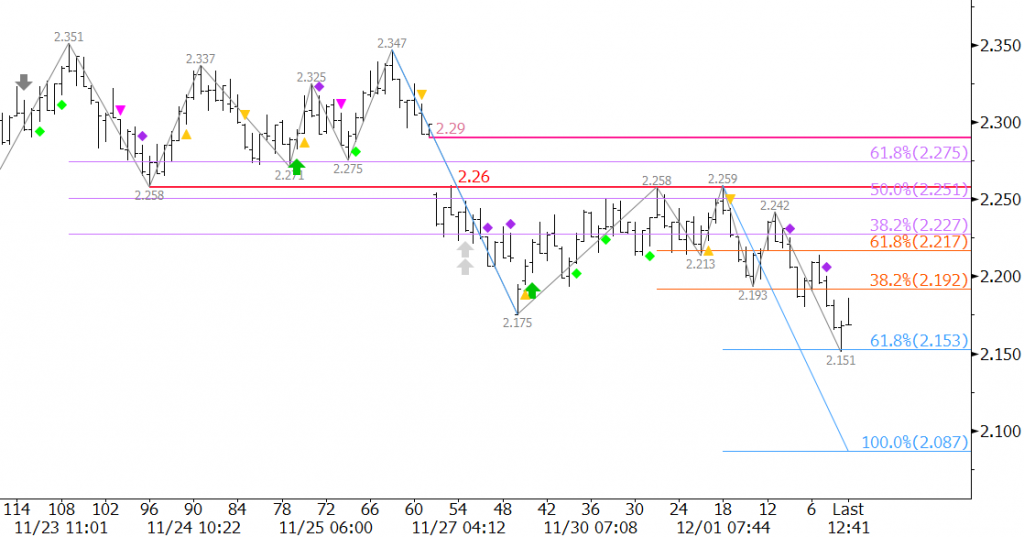 January futures met an important target at $2.15 on Wednesday. This was the 0.618 projection for the wave $2.347 – 2.175 – 2.259. A close below $2.15 would call for key support at $2.10, the 1.00 projection.
The importance of $2.15 indicates a correction might take place first, but look for resistance at $2.22 to hold. A close over $2.22 would call for $2.26 and possibly $2.30. A move higher than $2.30 is doubtful without support from weather.
This is a brief natural gas forecast for the next day or so. Our weekly Natural Gas Commentary is a much more detailed and thorough analysis. If you are interested in learning more, please sign up for a complimentary four week trial.