By Dean Rogers
The outlook for natural gas is still bearish, and without support from weather or a strong increase in industrial demand, it will most likely remain that way. However, there are a few positive technical setups that indicate a small correction to $1.90 and even $1.959 might take place first.
Monday's gap down from $1.959 still needs to be filled. This might be an exhaustion gap, but at this point it is looking more like a measuring gap that projects to $1.65. Wednesday's morning star setup indicates prices could make a push for at least $1.90 to try and confirm the pattern. The Stochastic is deeply oversold (and has been for some time) and the KasePO is setup for bullish divergence as it nears oversold territory. If Wednesday's $1.775 low holds, there is a good chance for the daily bullish KasePO divergence to be confirmed. Confirming the divergence, and confirming the morning star setup with a close over $1.90, would boost odds for filling the $1.959 gap.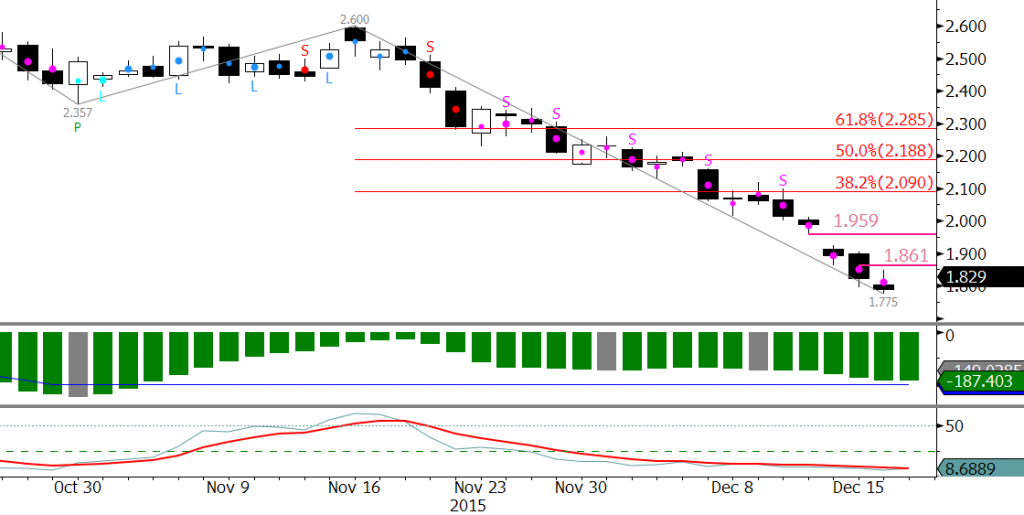 That said, longer-term odds still favor the decline and any move up will be corrective and hard pressed to overcome $1.959 without support from aforementioned external factors. Once the correction is complete (if it takes place at all), we expect prices to fall to $1.73 and $1.65.
This is a brief natural gas forecast for the next day or so. Our weekly Natural Gas Commentary is a much more detailed and thorough analysis. If you are interested in learning more, please sign up for a complimentary four week trial.