The falling U.S. dollar and higher probability the U.K. will vote to remain in the European Union are reportedly causes for crude oil's recovery. However, some analysts have stated that increasing U.S. rig counts and production coming back online in Canada will keep a lid on oil prices for the near term.
August WTI crude oil met crucial support at $46.41 on Friday before turning higher and forming a daily bullish engulfing line. So far, the move up to $50.0 has retraced 62 percent of the decline from $52.28 to $46.4. A close over $50.0 would significantly increase odds for $51.0 and possibly $52.3 later this week.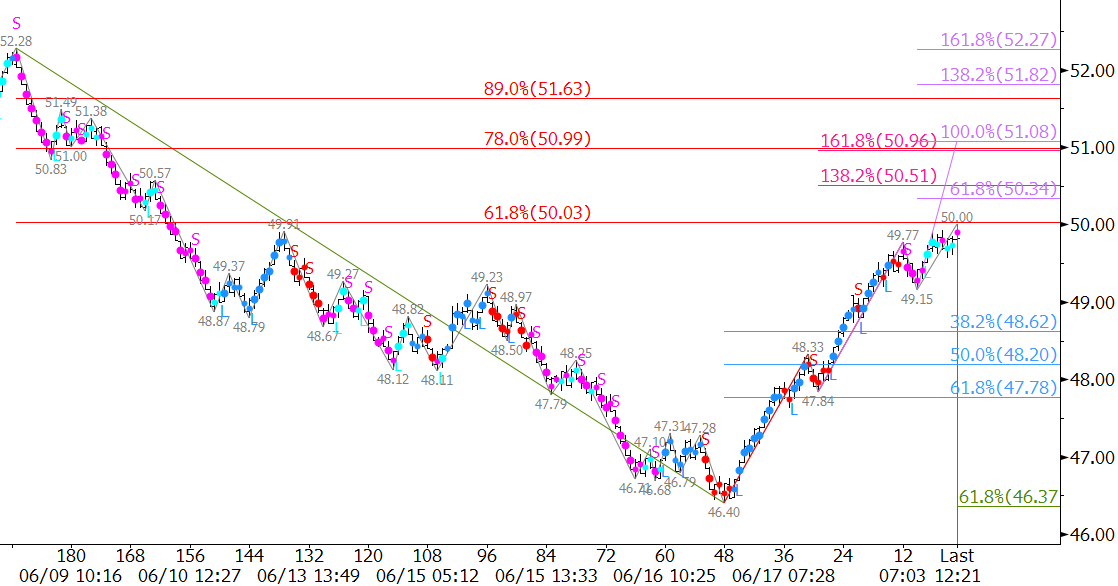 Support at $48.6 will most likely hold. The key level for the next few days will be $47.8. These are the 38 and 62 percent retracements from $46.4 to $50.0, respectively. A close below $47.8 would indicate the move up has likely formed Wave B of a larger scale ABC correction. This would in turn open the way for the downward correction to extend to targets in the mid-to-low $40s.
This scenario is less likely given the strong price rise over the past few days. With all factors considered, crude oil will most likely settle into a range in the upper $40s and low $50s soon while it sorts through the conflicting geopolitical, fundamental, and technical factors.
This is a brief analysis and outlook for the next day or so. Our weekly Crude Oil Commentary is a much more detailed and thorough energy price forecast. If you are interested in learning more, please sign up for a complimentary four-week trial.