By Dean Rogers
Crude oil has taken on a strong bearish tone. There is very little technical evidence, and even less fundamental evidence, that the decline is going to end. However, it is almost always darkest before dawn and there are a few factors that show a correction should take place soon.
Last week's update discussed major support at $47.0 for WTI and September Brent crude oil is quickly approaching major technical support at $52.8. This is the 1.618 projection for $71.37 – 62.3 – 62.49, the 0.618 projection for $67.49 – 55.6 – 59.9, and the lower Bollinger Band. The KasePO, shown in the middle panel of the chart above, and KaseCD, in the bottom panel, are setup for divergence and nearly in oversold territory. These factors indicate $52.8 is a potential stalling point and that a correction might take place before the decline continues to the next targets.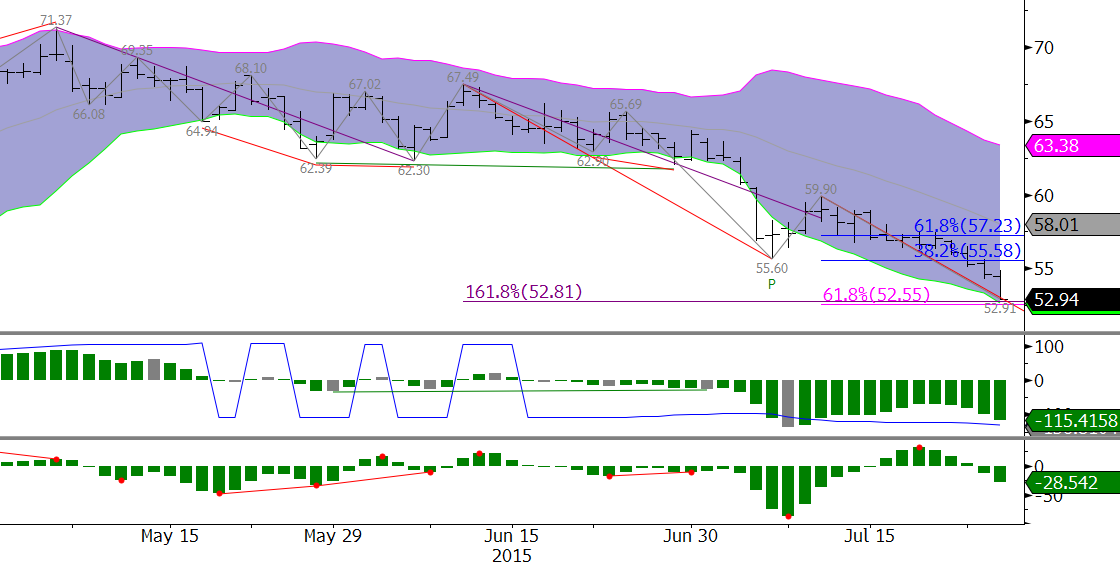 A normal correction will hold $55.6, the 38 percent retracement from $59.9. Key resistance is $57.2, the 62 percent retracement. We expect $55.6 to hold before the next leg lower takes place.
This is a brief analysis and outlook for the near-term. Our weekly Crude Oil Commentary is a much more detailed and thorough energy price forecast. If you are interested, please sign up for a complimentary four week trial.