Natural gas is idling in neutral again and is struggling to overcome key resistance levels. We are still negative for the longer-term, but the near term outlook is looking slightly positive.
The small move up is confirmed by long KaseX signals (green diamonds) on the $0.035 Kase Bar chart. In addition, Wednesday's close over $2.895, the 1.00 projection for the wave up from $2.785, has opened the way for its 1.618 projection near $2.96. The $2.96 target is crucial because it is the 0.618 projection for the wave up from $2.644. A close over $2.96 would call for an extended correction to targets above $3.00.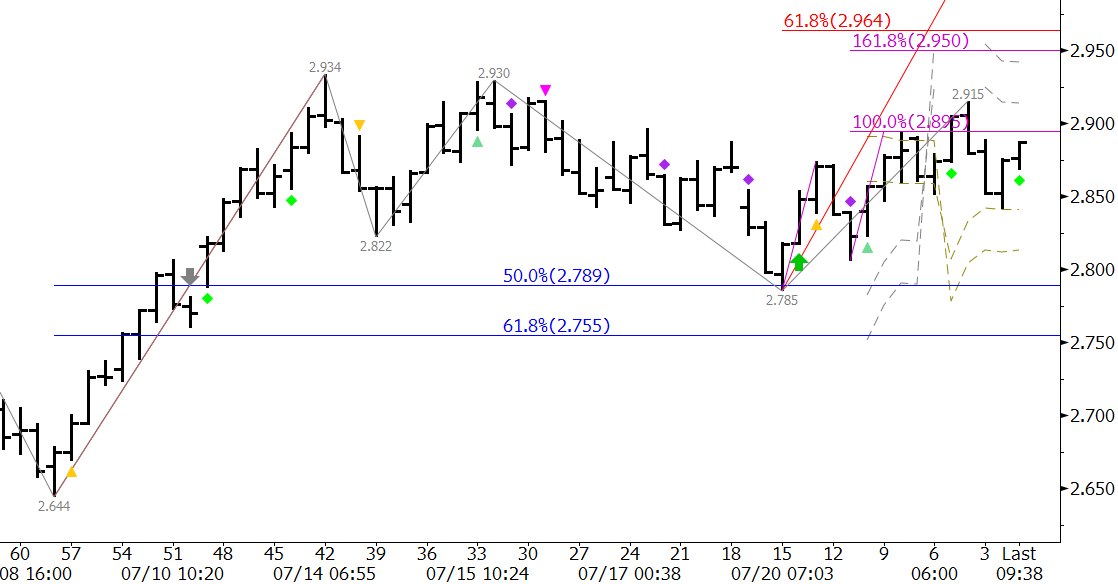 Other than the quick move up from $2.644, the recent move up has lacked conviction. A daily evening star setup and hanging man indicates traders are still not quite sure if the market is ready to make the push higher. Tuesday's $2.84 open is first support, and a close below this would call for another test of the $2.785 swing low.
This is a brief natural gas forecast ahead of tomorrow's EIA report. Our weekly Natural Gas Commentary is a much more detailed and thorough analysis. If you are interested in learning more, please sign up for a complimentary four week trial.