Prompt month WTI crude oil futures briefly fell below $50.0 on Monday and settled at the lowest level since April 2. The deal with Iran has led to fresh concerns about the global supply glut and most technical factors are negative. RBOB gasoline is lending some support, but on balance, the decline is poised to extend into the mid- and possibly low-$40s where the March 18th low of $42.03 would be challenged.
Prices broke lower out of the near perfect intraday bearish flag discussed last week. September WTI futures, which will become the prompt month on Wednesday, also settled below key support at $50.6 on Monday. This was the 1.618 projection of the wave $64.45 – 57.09 – 62.51. This is likely Wave I of a five wave trending pattern that should unfold to at least $47.0 and possibly $42.5. The five-wave pattern is not perfect, but the close below $50.6 and the bottom of Wave III leaves little room for any other interpretation.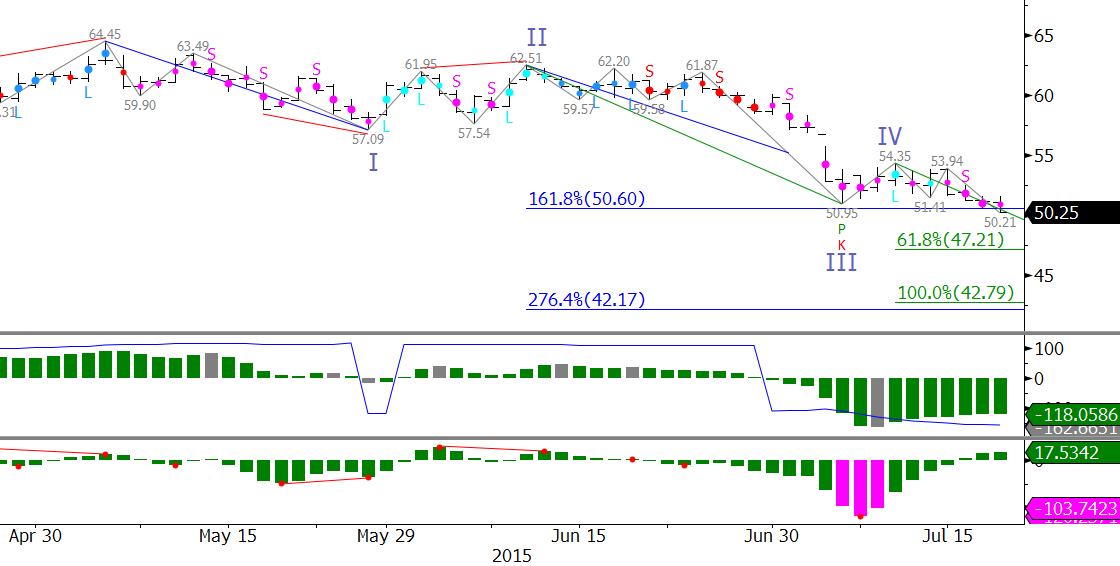 When a five-wave pattern forms at least two of the three impulse waves (I, III, or V) should be equal. At $47.0 Waves I and V will be equal and at $42.5 Waves III and V will be equal. Structurally, both $47.0 and $42.5 fit the structure of the five-wave pattern because $47.0 is the 0.618 projection of Wave III, $62.51 – 50.95 – 54.35 and $42.5 is the 2.764 projection for Wave I.
It is important to note that $42.5 is the lowest that the five-wave pattern projects. Therefore, unless the structure of the wave formation drastically changes, it is not likely that prices will fall below $42.5 in coming weeks.
Odds favor the decline, but the market still seems a bit unsure of itself. As stated, there is some support being wrought by RBOB gasoline, but it ended Monday on a negative note by forming an evening star setup. The move down will likely be a grind and small tests of resistance will be commonplace. First resistance is $51.8 followed by $52.8, which is expected to hold. Key resistance is the $54.35 swing high. A close above this would negative the five-wave pattern and open the way for an extended correction and potential recovery to $59.3 and higher.
Our weekly Crude Oil Commentary is a much more detailed and thorough energy price forecast. If you are interested, please sign up for a complimentary four week trial.