August natural gas is attempting to rally above $3.00 after stalling at $2.644 last Thursday. The surge over the last week may be a desperate attempt to push prices to targets above $3.00 before summer's end, and is being driven by speculation of above normal temperatures through the end of this month and into August.
The near-term outlook took a positive turn Wednesday when prices closed above $2.884, the 0.618 projection of the wave $2.588 – 2.977- 2.644. This clears the way for a rally to the 1.00 projection of $3.03. This is a potential stalling point for the upward correction. A close over $3.03 would call for the $3.20 confluence point with intermediate resistance at $3.11.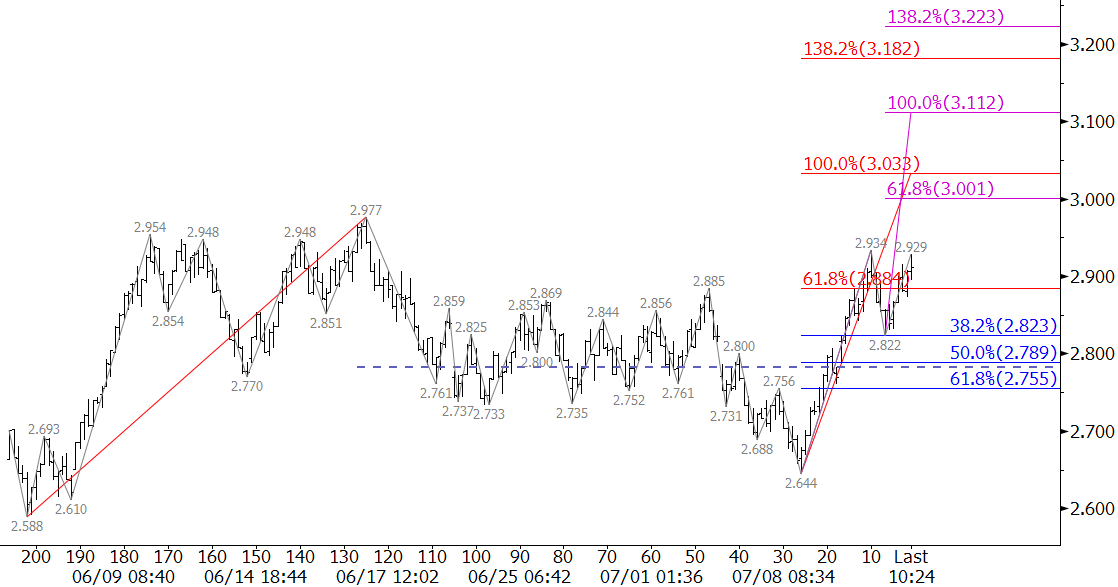 Caution is warranted though because it is a bit early to get overly exuberant about a bullish recovery. The balance of bullish and bearish factors is razor thin and shifts day-to-day. The move up is almost certainly corrective of the longer-term decline. Do not be surprised to see prices pull back and settle below $2.82 on Thursday should there be a disappointing EIA storage report. This, in turn, would call for $2.75 and lower.
This is a brief natural gas forecast ahead of tomorrow's EIA report. Our weekly Natural Gas Commentary is a much more detailed and thorough analysis. If you are interested in learning more, please sign up for a complimentary four week trial.