The long-term outlook for WTI crude oil remains bullish and any move down will most likely be corrective. However, the move up has reached an area of significant resistance between $57.2 and $60.0 for the December contract. Many of the largest waves up from this summer's $43.08 swing low project to targets within this range. There are no factors that indicate the move up will end, but the confluence of resistance within this range, overbought daily and weekly momentum, and the formation of a daily bearish Harami line and star indicate a corrective pullback should take place as early as tomorrow.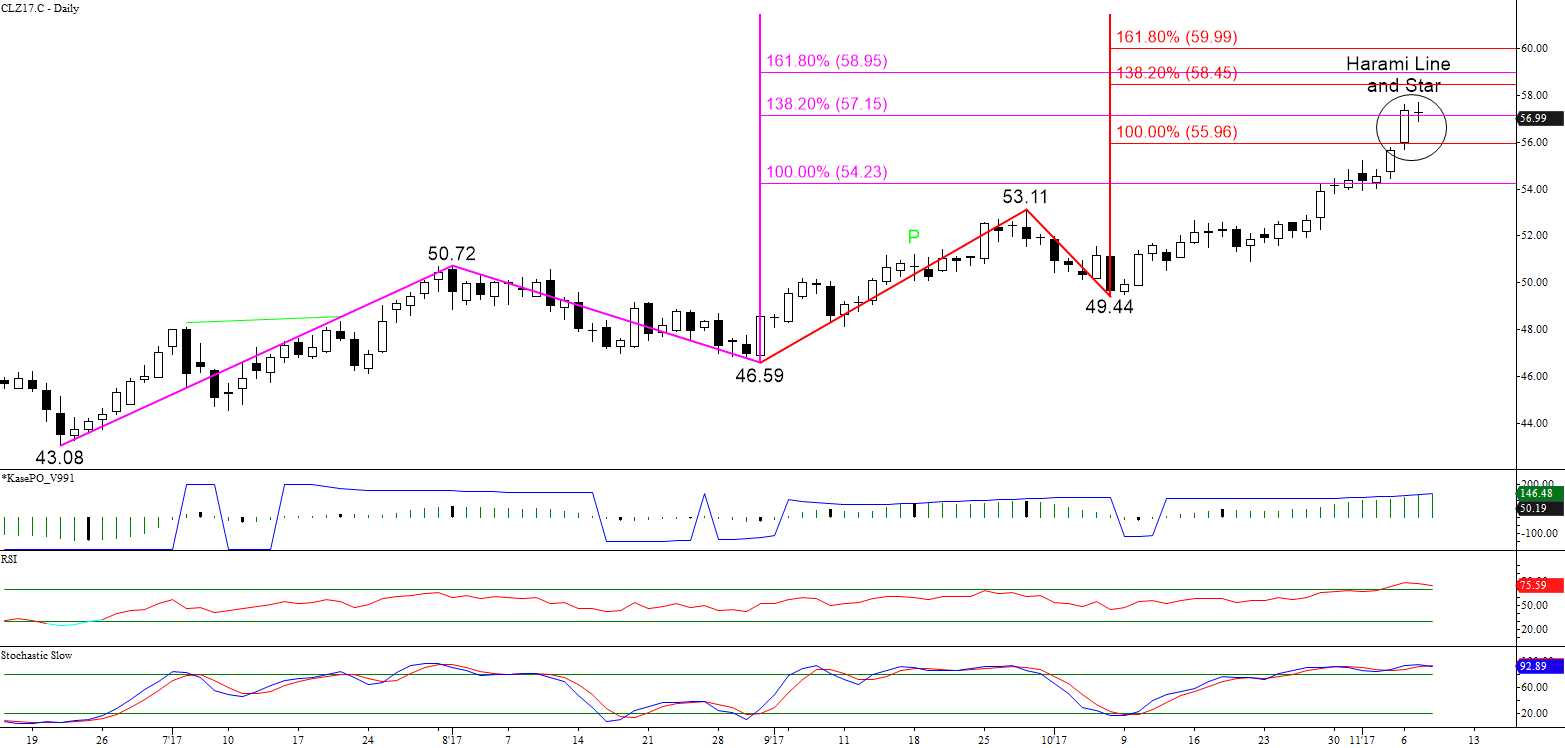 The late move below the $56.89 swing low opens the way for at least $56.6. This is the Harami line and star's completion point and equal to (1.00) target of the wave $57.69 – 56.89 – 57.44. A move below this would call for $56.1, the star's confirmation point and the larger than (1.618) target of the wave down from $57.69. For now, $56.1 will probably hold, but settling below this would shift odds in favor of a larger downward correction to $55.2 and possibly $54.7 before the move up continues toward $60.0.
For today's small move down to continue the $57.44 swing high must hold. A move above this would take out the wave down from $57.69 that projects to $56.6 and lower. This would also call for a test of $58.1. A close above $58.1 would put near-term odds back in favor of $58.5 and $59.0. Both are important projections for the waves up from $46.59 and $43.08, respectively.
This is a brief analysis for the next day or so. Our weekly Crude Oil Commentary and daily updates are much more detailed and thorough energy price forecasts that cover WTI, Brent, RBOB Gasoline, Diesel, and spreads. If you are interested in learning more, please sign up for a complimentary four-week trial.