For the past few weeks WTI crude oil prices have risen significantly, and for the first time since early December 2014 prices closed above $60.0 last week. However, many traders are questioning the long-term validity of the price rise continuing due to concerns of a persistent supply glut, and the technical factors show that the market reached a crucial decision point at $62.58 last week.
The June WTI futures contract met crucial resistance at $62.58 on Wednesday, May 6, and as called for in our weekly Kase Crude Oil Commentary, prices have begun to pullback in a corrective manner. The correction is taking place after a blow-off high and evening star setup formed that same day. The evening star (some might say shooting star) was both completed and confirmed on Thursday when prices closed below the midpoint and open of Tuesday's Harami bar. In addition, bearish divergences on the KaseCD and KasePO were confirmed on Friday. The combination of negative short term technical factors indicates the downward correction should extend and will likely form Wave IV of a longer-term five wave formation that projects to target in the mid-to upper $60s and even the low $70s.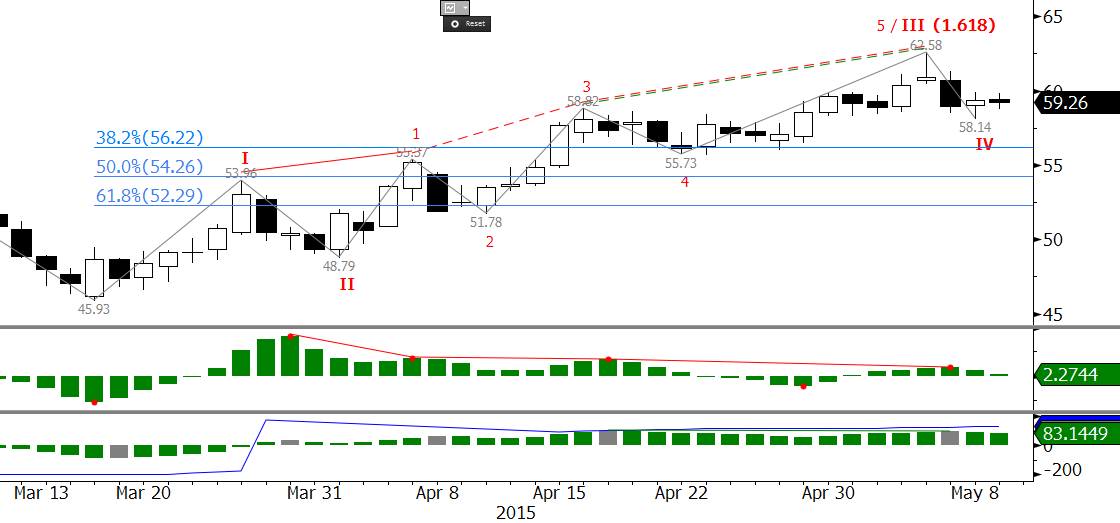 We expect the pullback to challenge at least $56.2. This is the 38 percent retracement of the move up from $45.93 and is near the bottom of the sub-wave 4 of III. If prices are going to extend to new highs in the next week or so, $56.2 must hold. Otherwise, a close below $56.2 would call for the 50 and 62 percent retracements at $54.3 and $52.3. For now, it looks as though $56.2 will hold. The long-term outlook would only shift back to being bearish upon a close below $52.3. We do not expect to see a decline of that magnitude.
Today's decline was nominal, so the next few days will be crucial for the near-term direction. A close over last Thursday's $59.82 midpoint would shift the near-term outlook back to positive, call for another test of $62.5, and likely open the way for the five-wave pattern to unfold to upper targets of $66.8 and $71.5 over the course of the next few months.
Take a trial of Kase's weekly crude oil forecasts to receive more in-depth analysis every week.