Many traders and analysts have been skeptical of natural gas' recent price surge. However, technical analysis is good at telling us what the market thinks about itself, and it is hard to argue with the bullish technical factors that have formed over the past few weeks.
The June natural gas futures contract is testing a crucial decision point at $2.93. This is an important confluence point for many technical factors and is most importantly the 0.618 projection for the waves up from $2.481 and $2.711. The near-term fate of natural gas prices will be determined by a close above or below $2.93.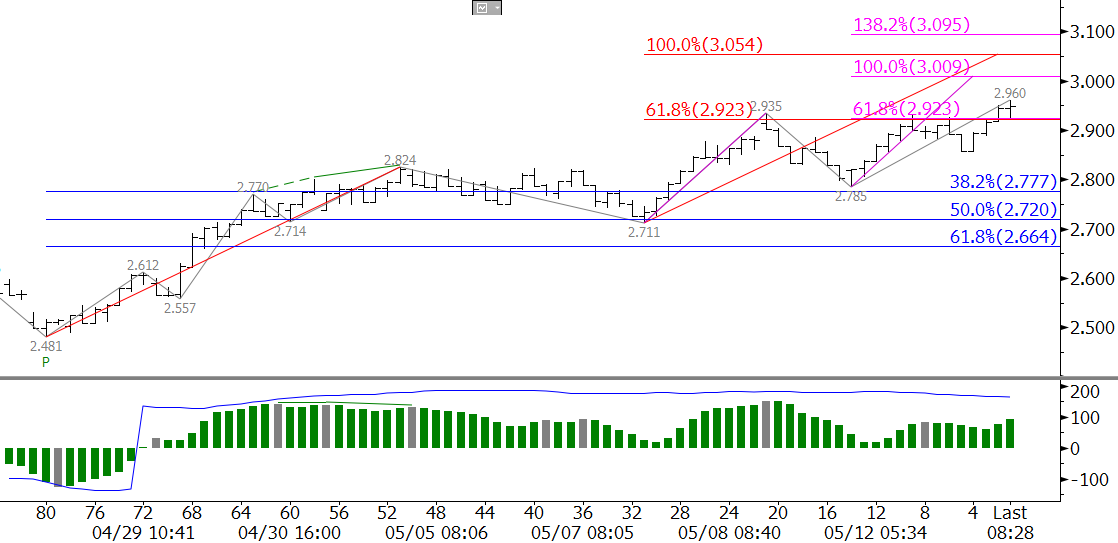 A close over $2.93 would indicate market participants are expecting a bullish EIA report tomorrow and for prices to push for at least $3.05. There is a momentum divergence setup on the KasePO, which indicates the move up is becoming exhausted. However, based on many other positive technical factors, we expect to see a close over $2.93 and rise to at least $3.05, which is the next lynchpin for a bullish summer recovery.
A close below $2.93 would signal continued hesitance and doubt that this move up will be able to overcome $3.00. Look for support at $2.78 and $2.66. Even upon a significant correction we expect $2.66 to hold.
Request a trial of our Natural Gas Commentary to receive a more in-depth analysis every week.