WTI Crude Oil Forecast
January WTI crude oil settled below $56.94, the 62 percent retracement of the decline from $58.14 to $55.0 and the smaller than (0.618) projection of the wave $55.0 – 56.93 – 55.75. However, this afternoon's late move above $56.94 indicates the move up should challenge the equal to (1.00) projection at $57.7 tomorrow. This is the last major target protecting against a new high. A close above $57.7 would call for $58.4 and possibly $58.9, the intermediate (1.382) and larger than (1.618) projections for the wave up from $55.0.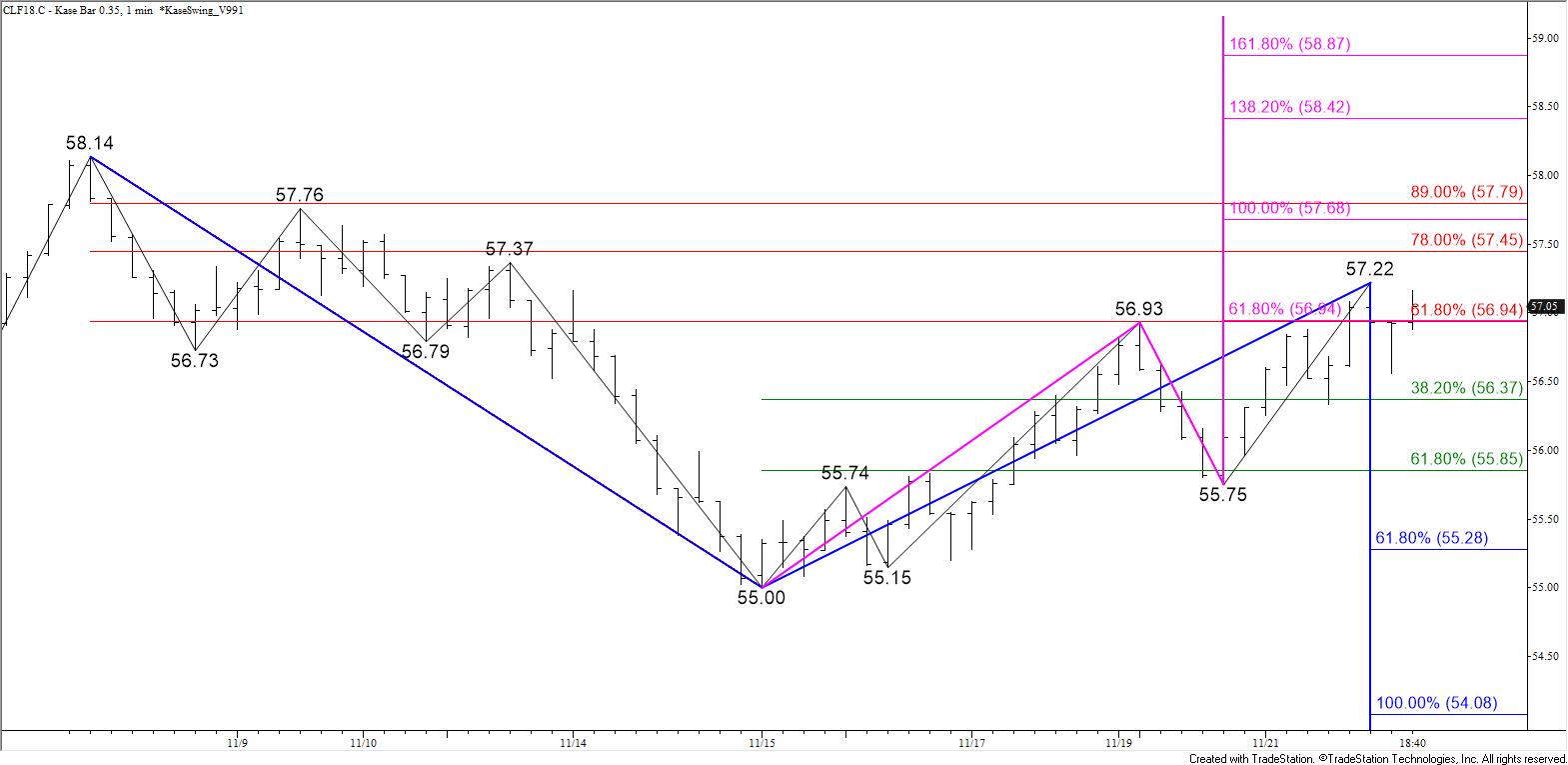 The move up will probably remain choppy and a good test of support will probably take place once $57.7 is met. For now, initial support is $56.4 and key support is $56.9, the 38 and 62 percent retracements of the move up from $55.0 to $57.22, respectively. Settling below $56.9 would shift near-term odds back in favor of $55.2, the smaller than target of the wave $58.14 – 55.0 – 57.22. This wave then connects to $54.1 as the equal to target.
Brent Crude Oil Forecast
Brent's move up has been more hesitant than WTI's this week and is still struggling to overcome the $62.92 swing high. However, today's settle above the smaller than (0.618) projection of the wave $61.08 – 62.92 – 61.44 indicates Brent should rise to at least $63.3 tomorrow. This is the equal to (1.00) target and the 62 percent retracement of the decline from $64.65 to $61.08. The importance of targets at this level indicate there is a good chance that a pullback will take place once $63.3 is met.
Initial support is $62.0 and key support is $61.4. A close below $61.4 would take out the wave up from $61.08 that projects to target at $63.3 and higher and would shift odds back in favor of a continued decline toward $60.8 and lower.
Natural Gas Forecast
December natural gas hasn't filled the November 6 gap up from $2.998 yet, but January, February, and March filled their respective gaps today. There is a tremendous amount of support around the bottom of each contract's gap. Therefore, the move down may stall tomorrow. For December specifically, this area has become $2.99 +/- $0.02.
That said, aside from the confluence of targets around $2.99, the challenge right now is that there are no reversal patterns, only a few intraday divergence setups, that indicate the move down could stall. Therefore, until these signals are confirmed and initial resistance is overcome, near-term odds will favor a continued grind lower.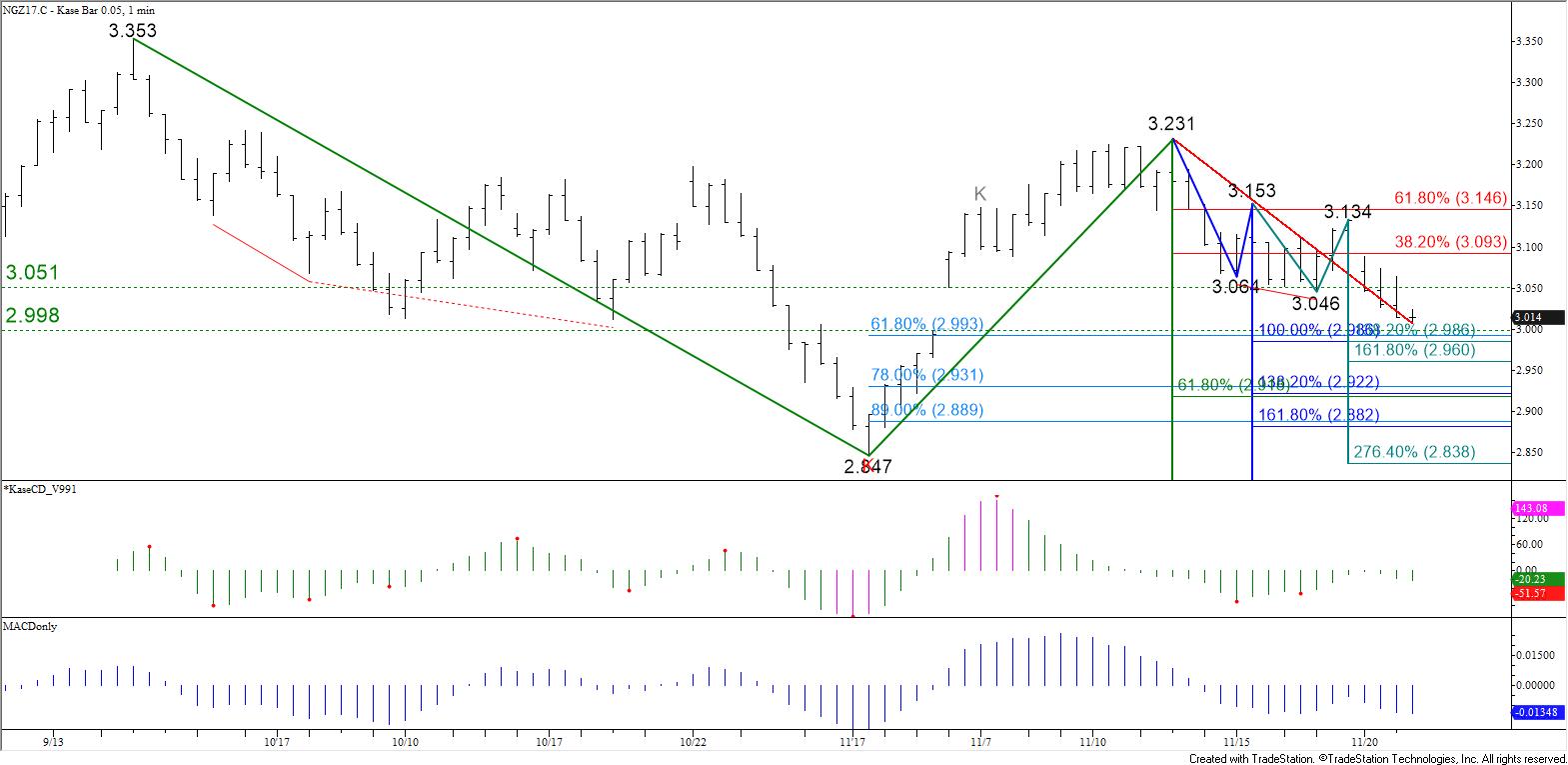 Tomorrow, look for a test of $2.99, a close below which would open the way for key lower support at $2.92. This is the next most confluent target below $2.99 and is most importantly the smaller than (0.618) target of the wave $3.353 – 2.847 – 3.231. The equal to target for this wave is $2.73, which means a close below $2.92 would put odds in favor of falling toward $2.73 during the next few weeks.
Should the bottom of December's gap at $2.998 continue to hold on a closing basis, there is still a chance for a recovery. Initial resistance is $3.06 followed by $3.10. Key resistance is $3.15. This is in line with the $3.153 swing high, the 62 percent retracement of the decline from $3.231, and the 100-day moving average. At this point, December will have to settle above $3.153 to feel confident that this most recent move down is over.
This is a brief analysis for the next day or so. Our weekly Crude Oil and Natural Gas Commentaries and daily updates are much more detailed and thorough energy price forecasts that cover key futures contracts, calendar spreads, and ETFs. If you are interested in learning more, please sign up for a complimentary four-week trial.