WTI Crude Oil Short-Term Price Forecast
WTI crude oil fell as called for in this week's Kase Commentary on Crude Oil but has reached the crucial $36.0 objective much faster than anticipated. The $36.0 objective is split between the $36.11 larger than (1.618) target of the primary wave down from $43.78 and the $35.94 38 percent retracement of the rise from $23.26. Meeting this objective so quickly signals that a much deeper test of support than previously expected may unfold. However, because the move down stalled at $36.13 today, a test of resistance is expected first.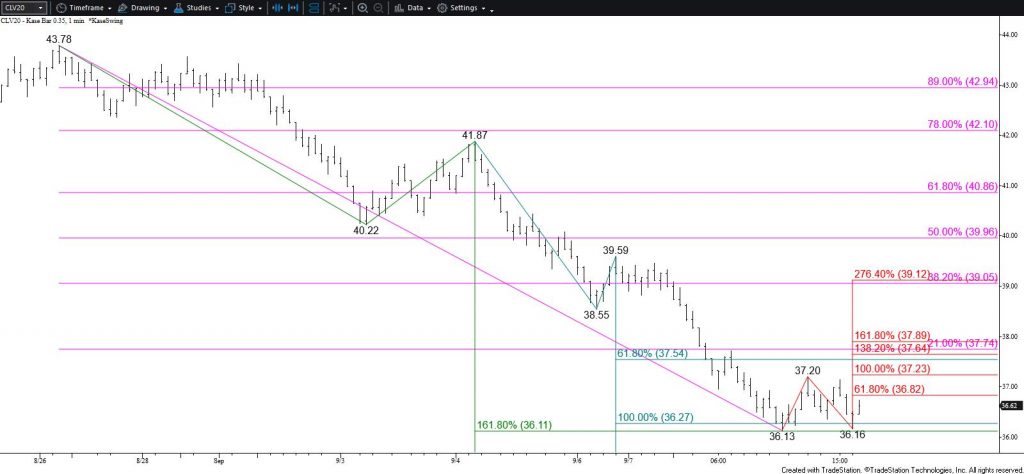 Based on the small wave up from $36.13, WTI should rise to at least $37.4 and likely $38.1 early tomorrow. These are the equal to (1.00) and larger than targets, respectively. The $38.1 level is also today's midpoint and is expected to hold. Rising above this will call for key resistance at $39.4. This is the highest the wave up from $36.13 projects and is near today's open. Closing above $39.4 is doubtful but would call for $40.0 and possibly higher and signal that the corrective move down might already be complete.
Once $37.4 is met, odds for another test of support around $35.9 will increase. Falling below $36.36 will invalidate the wave up from $36.13 that calls for $37.34 and higher. This would also call for a test of $35.9, a close below which will clear the way for $35.0 and lower.
Brent Crude Oil Short-Term Price Forecast
Brent fell as expected but has challenged the $39.1 objective sooner than predicted. Nonetheless, odds favor a continued decline and a move below $39.4 will call for $38.8 and lower.
That said, the move down stalled just above the crucial $39.1 area and the wave up from $39.31 implies that a test of $40.3 and probably $40.9 will take place first. Resistance at $40.9 is expected to hold. Key Resistance is $42.1, a close above which will clear the way for $43.0 and higher.
This is a brief analysis for the next day or so. Our weekly Crude Oil Forecast and daily updates are much more detailed and thorough energy price forecasts that cover WTI, Brent, RBOB Gasoline, Diesel, and spreads. If you are interested in learning more, please sign up for a complimentary four-week trial.