Gold Technical Analysis and Near-Term Outlook
Gold is trading in a narrowing range that forms a coil pattern. Coils reflect indecisiveness and are not the most reliable patterns. Even so, they generally break in the direction of the prior move, in this case, down.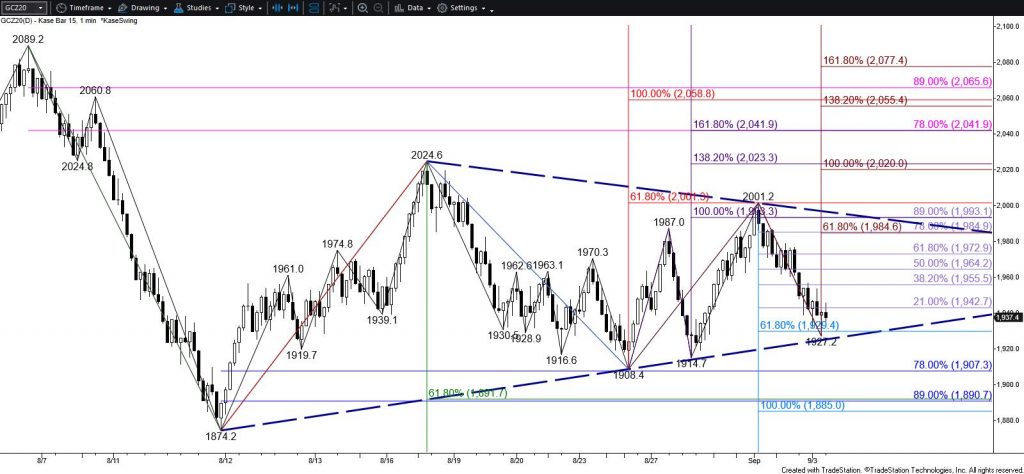 Today's decline to $1927.2 challenged the lower trend line of the coil and fulfilled the smaller than (0.618) target of the wave down from $2024.6. This is bearish and suggests that the move down should continue to the $1888 equal to target. This is in line with the smaller than (0.618) target of the primary wave down from $2089.2. Settling below $1888 will call for a more significant decline.
Nevertheless, the move up to $2001.2 earlier in the week fulfilled the smaller than target of the wave up from $1874.2. This wave positive because this wave connects to $2059 and higher. The coil pattern may be building a bullish base, but until gold settles above $2001, the near-term outlook will continue to lean bearish.
This is a brief analysis for the next day or so. Our weekly Metals Commentary and daily updates are much more detailed and thorough energy price forecasts that cover key COMEX precious metals futures contracts and LME Non-Ferrous (Base) metals, spot gold, the gold/silver ration, and gold ETFs. If you are interested in learning more, please sign up for a complimentary four-week trial.