WTI Crude Oil Price Forecast
The long-term outlook for WTI crude oil is bullish. However, the move up stalled at $41.63 today. This was in line with the August contract's 62 percent retracement of the decline from $54.71. Today's move up also filled the March 9 gap down from $41.05 on the continuation chart, a level that held on a closing basis. Today's candlestick body is a bit too big to form a shooting star, but the long upper shadow reflects weakness headed into tomorrow. Therefore, a deeper test of support is expected during the next day or so.
WTI's primary wave formation down from $41.63 calls for at least $39.6. This is the larger than (1.618) target and a likely temporary stalling point. Nevertheless, falling below $39.6 will call for $39.0, the 38 percent retracement of the move up from $34.66 and Monday's open. For the move up to continue during the next few days $39.0 must hold. Closing below this will call for $38.2 and likely $37.3. The latter is the 62 percent retracement from $34.66 and August's 21 percent retracement of the move up from $20.28.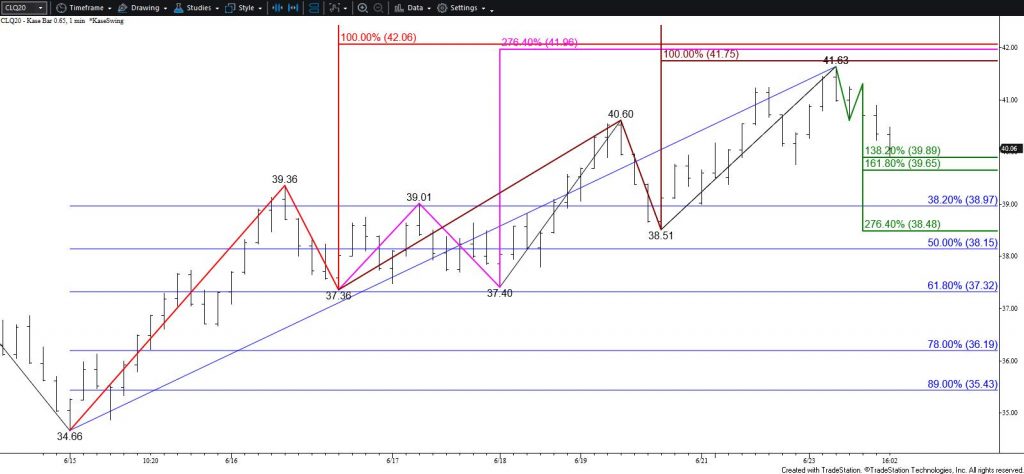 Should WTI turn higher early tomorrow look for resistance at $41.0 to hold. Overcoming this will call for a move above the $41.3 intra-day swing high, which would invalidate the wave down from $41.63 that calls for $39.6 and lower. Key resistance is $42.2. This is a highly confluent wave projection, and more importantly, the top of the August contract's March 9 gap down from $42.17.
Brent Crude Oil Price Forecast
Brent crude oil stalled just above the $43.9 target called for in yesterday's update. The subsequent move down is most likely corrective but should extend to at least $41.7 and likely $41.1 before the move up continues. Closing below $41.1 will clear the way for another attempt at $40.0. For now, $40.0 is expected to hold. Even so, settling below this will shift odds in favor of a more significant test of support before the next leg of the long-term bullish trend unfolds.
As the downward correction extends tomorrow, resistance at $43.3 is expected to hold. Closing above this will call for $44.7, which then connects to $45.6 and higher.
This is a brief analysis for the next day or so. Our weekly Crude Oil Forecast and daily updates are much more detailed and thorough energy price forecasts that cover WTI, Brent, RBOB Gasoline, Diesel, and spreads. If you are interested in learning more, please sign up for a complimentary four-week trial.