Natural Gas Price Forecast
Today, the focus of the natural gas analysis is switched to the August contract due to July's expiration on Friday, June 26.
On a side note, July's close below $1.60 today puts the prompt month in position to reach at least $1.54 and possibly $1.49 before expiration. However, given the time constraint, reaching $1.49 will be a challenge. Therefore, it looks like the continuation chart's $1.519 swing low may continue to hold for now.
The August natural gas contract fell to a new contract low of $1.652 today and continues to extend its long-term downtrend. There is some support around $1.65 for a few of the recent waves down from $1.96 and $1.915. However, based on the larger waves and sub-waves, August natural gas is poised to challenge $1.60. This has been strong support for the past several weeks on the continuation chart and should be stiff support for August. The $1.60 target is highly confluent and is the equal to (1.00) target of the primary wave down from $2.447.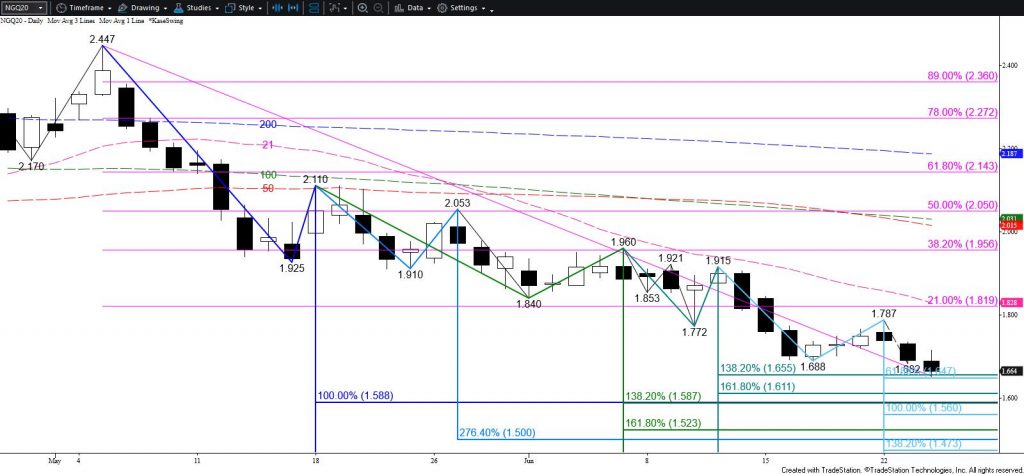 Once the $1.60 objective is met, another test of resistance is anticipated before the decline continues. Nevertheless, closing below $1.60 will call for $1.55 and likely $1.51, where the continuation chart's $1.519 swing low will be challenged.
A few daily momentum oscillators are oversold and setup for bullish divergence. Otherwise, there are no confirmed bullish patterns or signals that indicate the move down will stall. Even so, should August rally early tomorrow, look for initial resistance at $1.70 and key near-term resistance at $1.74. Settling above $1.74 will shift near-term odds in favor of a larger correction to test $1.82. This is the 21 percent retracement of the decline from $2.447 and the 21-day moving average.
This is a brief analysis for the next day or so. Our weekly Natural Gas Commentary and daily updates are much more detailed and thorough energy price forecasts that cover key natural gas futures contracts, calendar spreads, the UNG ETF, and several electricity contracts. If you are interested in learning more, please sign up for a complimentary four-week trial.