Gold Price Forecast
Gold futures are trading within the boundaries of a rectangle pattern. This is bullish for the long-term. A close above $1790 will confirm a break higher, clearing the way for the next major targets at $1816 and higher.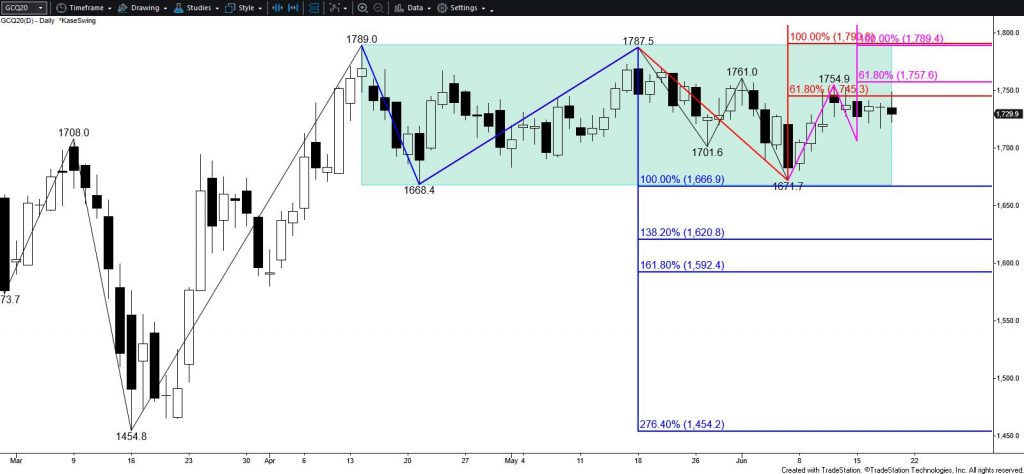 However, for the past few days gold has struggled to overcome resistance around $1744. This is the 62 percent retracement of the decline from $1789.0 and the smaller than (0.618) target of the primary wave up from $1671.7. Odds still favor a continued rise and a close above $1749 will call for $1761, which then connects to $1790.
That said, today's failure to close above $1744 suggests a deeper test of support might take place first. Support at $1703, the 62 percent retracement of the move up from $1671.7, is expected to hold. Falling below this would call for $1685 and then $1666, the lower of which is in line with the bottom of the rectangle. Settling below $1666 would confirm a break lower out of the pattern and a strong bearish shift in sentiment.
This is a brief analysis for the next day or so. Our weekly Metals Commentary and daily updates are much more detailed and thorough energy price forecasts that cover key COMEX precious metals futures contracts and LME Non-Ferrous (Base) metals, spot gold, the gold/silver ration, and gold ETFs. If you are interested in learning more, please sign up for a complimentary four-week trial.