WTI Crude Oil Technical Analysis and Short-Term Forecast
WTI crude oil shook off yesterday's decline with ease, reflecting a bullish shift in external factors. Although $50.0 held on a closing basis, the close above the highly confluent $49.6 objective clears the way for $51.0 and $52.1 during the next few days. Both are confluent wave projections but $52.1 is most important because it is the equal to (1.00) target of the primary wave up from the February contract low of $27.22.
With that said, the wave formation up from $34.50 is due for a correction and daily momentum oscillators are either overbought or setup for bearish divergence. Therefore, a significant test of support is expected once $52.1 is met, and before this objective is overcome on a sustained closing basis.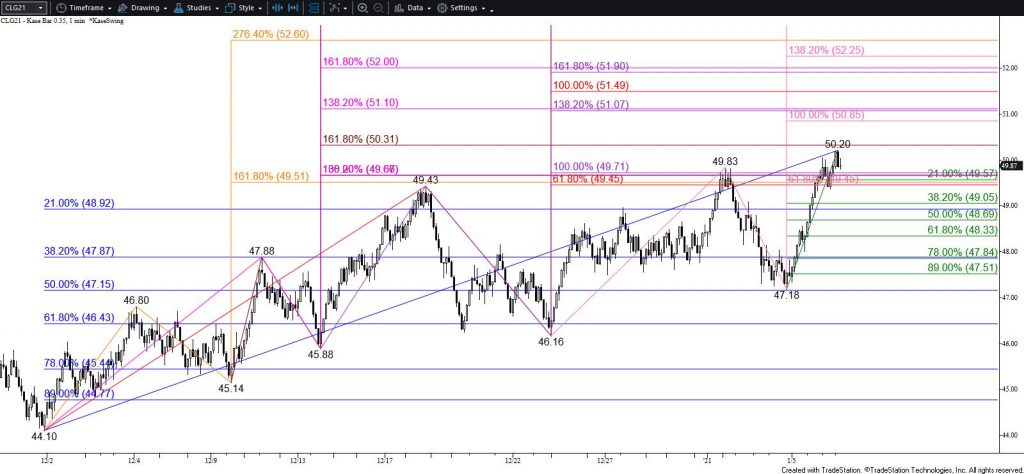 Nevertheless, as the move up extends toward $52.1 in the coming days, support at $49.1 will likely hold and $48.3 is key for the near-term. Settling below $48.3, which is near today's open and in line with the 62 percent retracement of the rise from $47.18, would shift near-term odds in favor of $47.8 and possibly $47.2. Closing below $47.2 would call for the move down to take out the $47.18 swing low and signal that a significant test of support is finally underway.
This is a brief analysis for the next day or so. Our weekly Crude Oil Forecast and daily updates are much more detailed and thorough energy price forecasts that cover WTI, Brent, RBOB Gasoline, Diesel, and spreads. If you are interested in learning more, please sign up for a complimentary four-week trial.