Last week, after WTI crude oil surged higher on Monday, prices eased a bit and an overdue correction started. Media sources indicate prices fell due to concern about persistent oversupply. Traders are reportedly waiting for new bullish news to push prices higher. In addition, skeptics remain doubtful that OPEC will be able to follow through on last month's proposed production cut.
Technical factors show that the correction should extend to at least $49.1. This is because the wave $52.16 – 49.79 – 51.51 met its 0.618 projection at $49.9. Waves that meet the 0.618 projection typically extend to the 1.00 projection, in this case $49.2. This is also near the 38 percent retracement of the move up from $43.77. The confluence point is $49.1.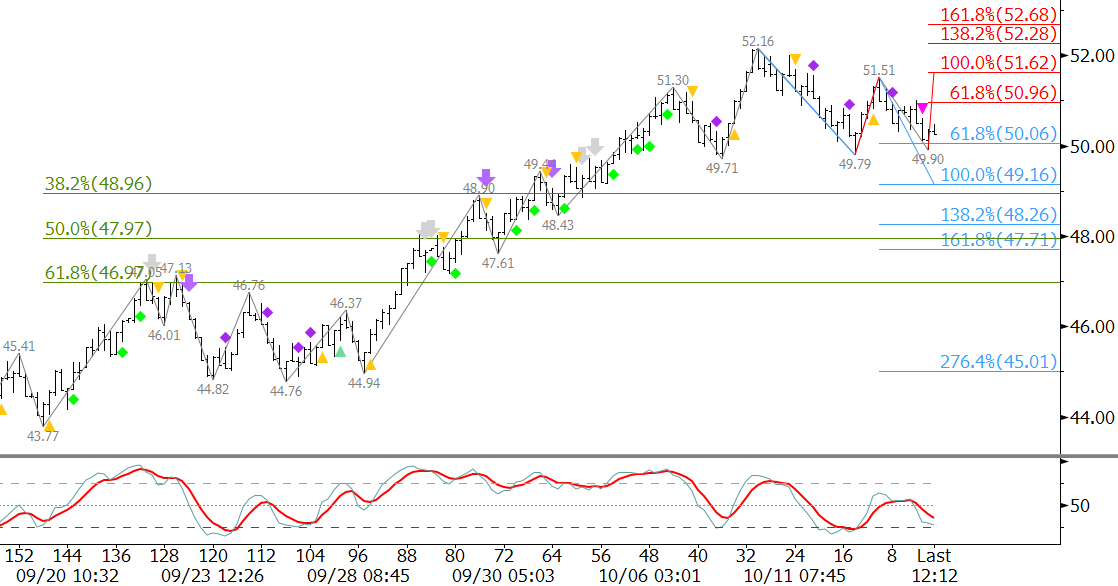 That said, the correction may be forming a bullish descending triangle. The upper trend line of the formation is $51.1. The move up late today indicates WTI might test this upper trend line before the downward correction continues.
A close over $51.1 would call for the $51.51 swing high to be overcome. This would, in turn, take out the wave down from $52.16 that projects to $49.0 and lower. Therefore, for the move down to continue as expected $51.1 should hold and the $51.51 swing high must hold.
This is a brief analysis and outlook for the next day or so. Our weekly Crude Oil Commentary and intra-week updates are a much more detailed and thorough energy price forecast. If you are interested in learning more, please sign up for a complimentary four-week trial.