Media sources state that traders and analysts are looking to current warm weather in the south and anticipation of a colder than normal winter as catalysts for higher natural gas prices. However, some reports indicate many traders and analysts remain skeptical and have stated that the move up is too soon in anticipation of real weather. These traders and analysts are concerned that an early move higher may lead to disappointment due to inventories that could exceed record levels by the end of this month.
Natural gas's move up has been resilient and reflects the market's desire for a longer-term bullish move. The bullish sentiment was reflected by the move to $3.30 on Monday. However, this was a highly confluent wave projection that has held and November has pulled back to $3.184 so far.
From a technical standpoint, there is little doubt that the move down is corrective. The decline has been shallow and choppy and may form a bullish expanding wedge. However, today's close below Monday's midpoint and the waves down from $3.30 call for the correction to extend at least a bit more before the move up continues.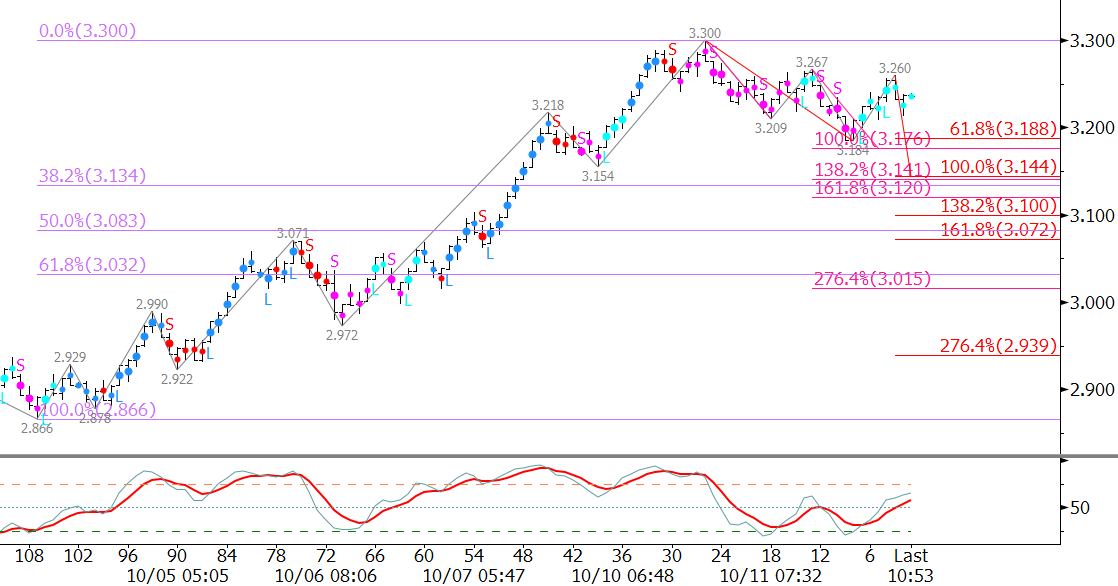 Support at $3.18 is still important. A move below $3.18 would call for at least $3.14, which is a confluent wave projection and retracement level. A close below $3.14 would open the way for a more significant correction before prices rise to a new 2016 high.
Resistance at $3.27 must hold for the correction to extend to $3.14. A move above $3.27 before $3.14 is met would indicate the correction is complete and call for prices to rise to crucial targets above $3.30.
This is a brief natural gas forecast for the next day or so. Our weekly Natural Gas Commentary and intra-week updates provide a much more detailed and thorough analysis. If you are interested in learning more, please sign up for a complimentary four-week trial.