Crude Oil rose substantially last week after OPEC agreed to cut output by 1.2 million barrels per day. The week posted the largest percentage gain since 2009 and many market participants reportedly expect the move up to continue.
However, others remain skeptical that OPEC members will comply with production quotas. Members have been known to cheat quotas in the past per media sources. In addition, pundits say higher prices would likely encourage more shale production in the U.S., which would ultimately offset OPEC cuts.
Most long-term technical factors are positive. However, WTI is starting to show signs of weakness for the near-term. January WTI's move up stalled at $52.42 before prices could overcome the mid-October double top at $52.7. To reach the next target at $53.6 soon, January must overcome $52.7 early this week.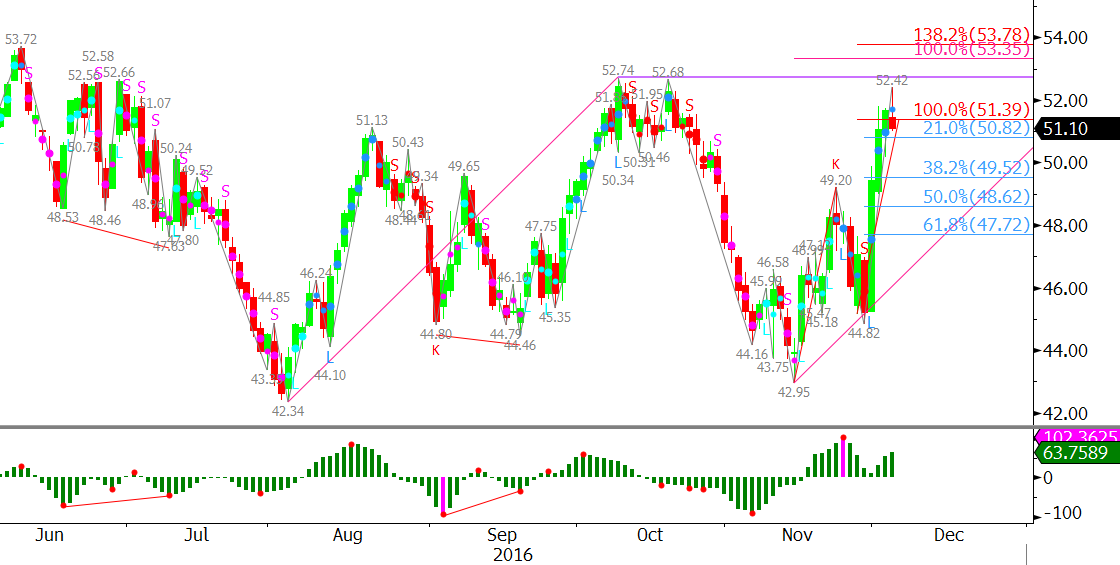 That said, the KaseCD momentum indicator is set up for bearish divergence and several momentum indicators confirmed bearish divergences on intra-day charts. Therefore, the correction from $52.42 will most likely extend to last Thursday's $50.1 midpoint first. A close below $50.1 would then call for $49.5, which is the 38 percent retracement of the move up from $44.82 to $52.42.
Key support for the near-term is $49.1. A close below this would be a strong indication that without more help from external factors, the move up is over, for now.
This is a brief analysis and outlook for the next day or so. Our weekly Crude Oil Commentary and intra-week updates are a much more detailed and thorough energy price forecast. If you are interested in learning more, please sign up for a complimentary four-week trial.