Saudi Arabia once again made clear they will only freeze output at current levels if other nations, including Iran, also do so. Iran has balked at the idea and stated objections on numerous occasions. Reports indicate this came as a shock to bullish oil traders, some of whom had thought the Saudi's softened their tone and have been more willing to discuss a deal.
On Friday, May WTI futures finally closed below crucial support at $37.8. The move down extended on Monday and is quickly closing in on crucial support at $35.3. This is a confluent wave projection for the waves down from $42.49, $39.85, and $39.04. It is also near the 62 percent retracement of the move up from $30.67 to $42.49.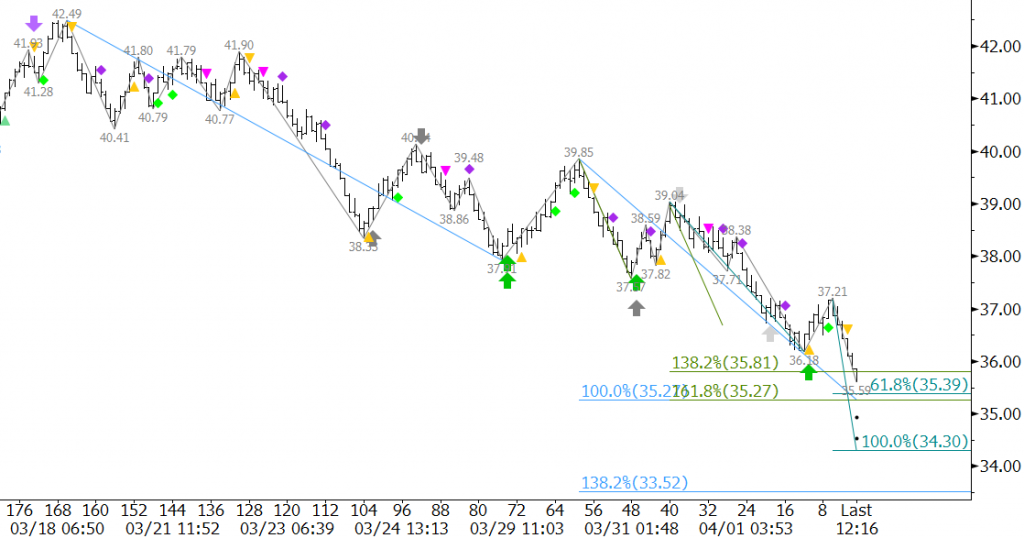 The confluence of projections and retracements at $35.3 make it a potential stalling point. However, so far, the market has not shown reason to believe the recent decline will end. A close below $35.3 would open the way for $33.6 and lower where extremely important targets protecting the May contract low will be tested.
Prices will likely bounce soon, but that will not mean that the move down is over. Look for initial resistance at $36.6 and key near-term resistance at $38.2. We expect that for the time being there will be plenty of selling pressure upon retracements to these levels.
This is a brief analysis and outlook for the next day or so. Our weekly Crude Oil Commentary is a much more detailed and thorough energy price forecast. If you are interested in learning more, please sign up for a complimentary four-week trial.