By Dean Rogers
Natural gas entered into the injection season a bit earlier than normal, and as a result, prices have settled into a state of flux. It is too soon to say that a long-term bottom has been made, especially for the May contract. However, over the past few days the charts have shown that the upward correction is attempting to extend and that prices could soon rise to levels above $2.00.
May natural gas stalled just below crucial resistance at $2.02 Wednesday morning. This is the 0.618 projection for the wave $1.731 – 2.032 – 1.837. The $2.02 target is key resistance for the near term because a sustained close over this would call for at least $2.14 as the 1.00 projection. At that point, the move up would still be corrective longer term, but would most likely confirm that a bottom has been made through at least the summer months.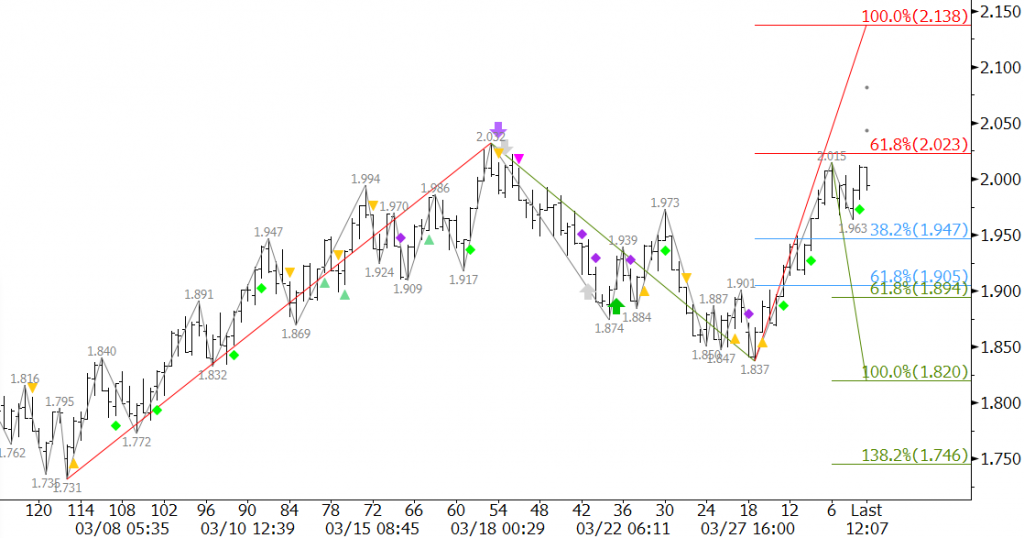 A normal pullback of the recent move up from $2.837 should hold $1.95. This is the 38 percent retracement from $1.837 to $2.015. However, the daily evening star setup that is formed on Wednesday indicates a pullback to $1.90 might take place. For the move up to continue, $1.90 must hold. This is the 62 percent retracement and the 0.618 projection of the wave $2.032 – 1.837 – 2.015. A close below $1.90 would shift odds in favor of a decline to $1.82 and lower.
This is a brief natural gas forecast for the next day or so. Our weekly Natural Gas Commentary is a much more detailed and thorough analysis. If you are interested in learning more, please sign up for a complimentary four-week trial.