Last week May natural gas formed a double top at $2.03. The confirmation point for the pattern was $1.837, the swing low between the two peaks of $2.032 and $2.028. May rose above the $2.03 double top, but failed to close over this crucial level on both Monday and Tuesday. This was negative and set the market up for a test of major support.
Today's close below the $1.925 swing low indicates May should now challenge the $1.837 swing low. A move below this would take out the wave up from $1.731 and significantly dampen the potential for the upward correction to continue. Look for initial support tomorrow at $1.86, the 62 percent retracement from $1.731 to $2.074.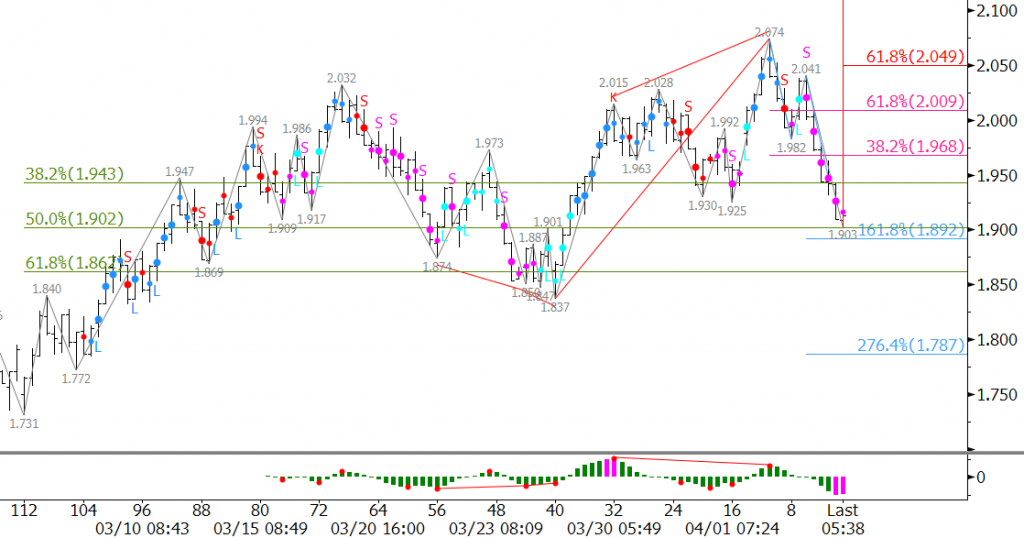 That said, the wave $2.074 – 1.982 – 2.041 met its 1.618 projection at $1.89. Therefore, be mindful of the potential for a small upward correction in early trading tomorrow. Currently, our models show resistance at $2.03 and $2.07. We expect $2.03 to hold.
This is a brief natural gas forecast for the next day or so. Our weekly Natural Gas Commentary is a much more detailed and thorough analysis. If you are interested in learning more, please sign up for a complimentary four-week trial.