Bullish optimism regarding OPEC's preliminary agreement to cut crude oil production has reportedly fueled the move higher during the past week. The news came last Wednesday after members met during a conference in Algeria. OPEC will meet again on November 30 to further discuss and possibly ratify the deal. However, many are still skeptical that an OPEC deal will be enough to balance supply and demand if production is minimally cut or capped near record output levels.
Technical factors reflect the underlying bullish sentiment. The monthly and weekly candlesticks are positive and call for the move up to extend. In addition, November WTI overcame the $48.38 swing high. This was important because the move above $48.38 takes out the primary wave down from $50.0 and significantly dampens odds for a continued decline in the near-term.
On Monday, an important target was met at $48.9. The waves that projected to $48.9 now call for November to challenge the $50.0 swing high. Overcoming $50.0 would solidify a near-term bullish outlook and call for key resistance at $52.3. The $52.3 objective is the gateway for a longer-term bullish outlook.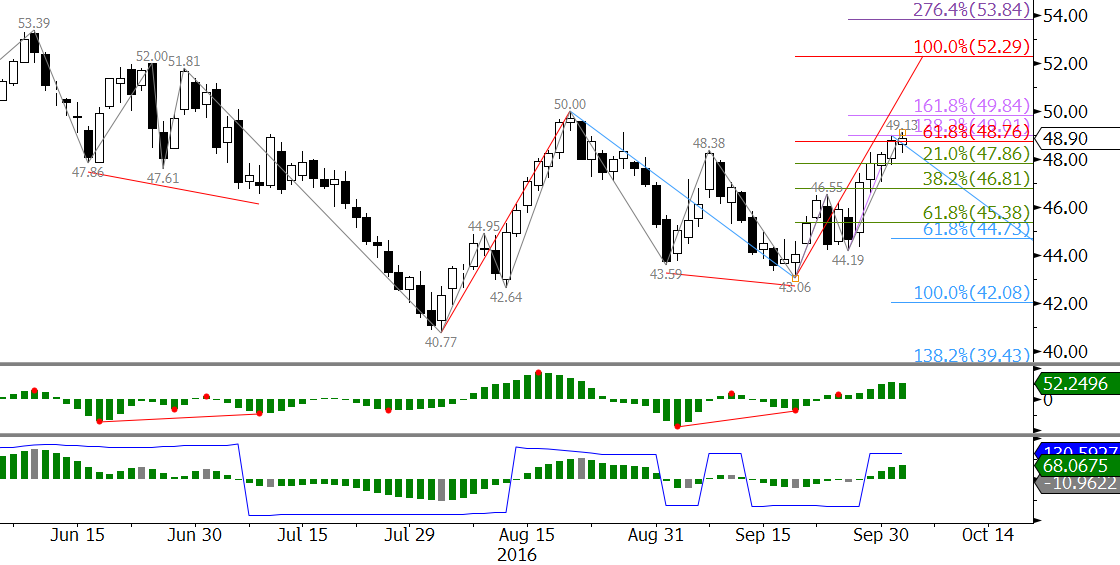 That said, bearish divergences were triggered on the $1.00 Kase Bar chart early Tuesday. Therefore, a correction might take place before the move up extends to $50.0. There is initial support at $48.0 and then $46.9. The latter is expected to hold. A close below $46.9 would call for $46.0 and then key support centered around $45.0 to possibly be tested.
This is a brief analysis and outlook for the next day or so. Our weekly Crude Oil Commentary and intra-week updates are a much more detailed and thorough energy price forecast. If you are interested in learning more, please sign up for a complimentary four-week trial.